29 Jan
… or how to smoke a rare cigar very comfortably in a parking lot …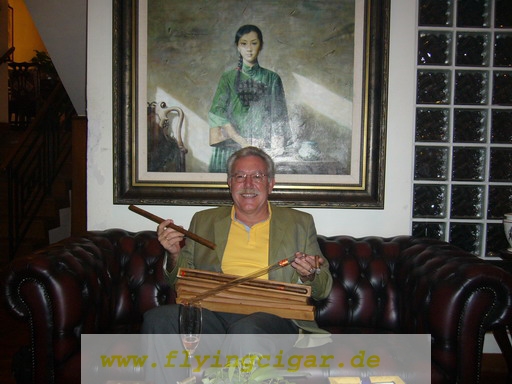 At MRN's home with Visible Inmensos – Photo MRN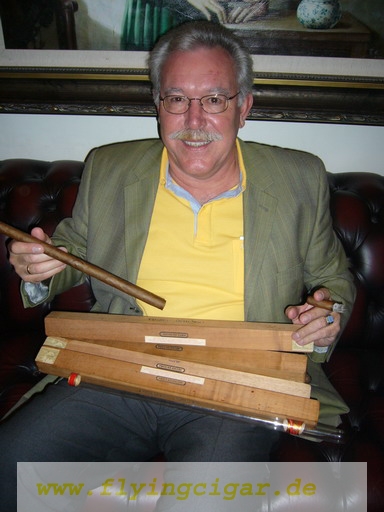 At MRN's home with Visible Inmensos – Photo MRN
January 2009
A few days before the start of the Chinese New Year on January 26-th, I returned to Hong Kong and had once again the pleasure of being invited by renowned author and collector Min Ron Nee.
This would be my third visit to this legendary personality in the cigar world – and most probably the last flight to Hong Kong in uniform before I retire.
After an uneventful 10-hr flight we touched down in sunny and hazy conditions, certainly much better than same time last year during my visit then. It was a hot interval, driving temperatures up to 26-27 C.
Driving into Hong Kong from the modern Chep Lap Kok airport on Lantau Island I was again impressed by the modern infrastructure. Both the Tsing Ma and Ting Kau suspension bridges are beautiful and breathtaking as they span the harbour entrance over an incessant traffic of giant container vessels steaming in and out of the "fragrant harbour".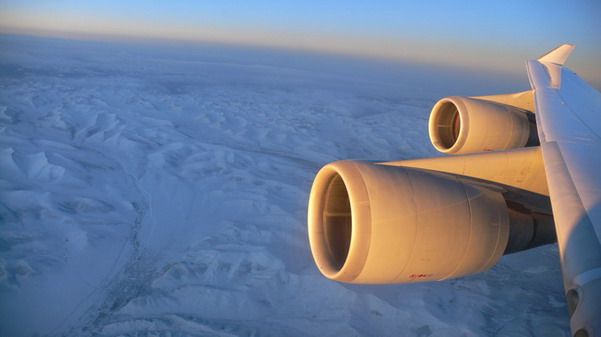 On Lima Triple Eight Airway to HKG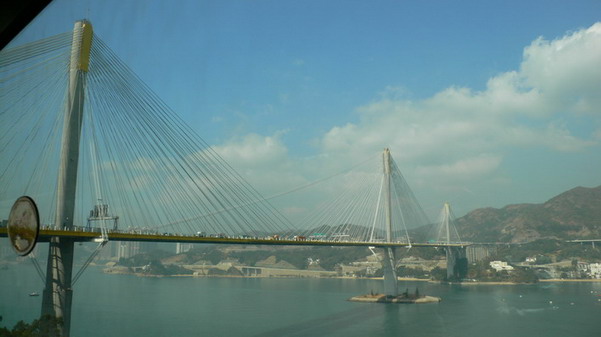 Tsing Ma Bridge HKG
The airline has provided us with a new Hotel, located on Nathan Road in Tsim Sha Tsui, so we are no longer privileged with the glorious harbour views we had from the Renaissance at the Convention Centre in Wanchai.
I had contacted Min Ron Nee after landing and he kindly promised to pick me up after his long working day, so all I wanted after the long flight and before resting was a cold beer and a cigar.
After inquiring with both Concierge and Bell Captain it was clear that there was absolutely no place to sit down open air in the early afternoon. No way. All open air places closed until evening. I was offered an ashtray near the Hotel's driveway. No way.
So I picked up 2 cans of cold Tsingtao at the 7-Eleven and chose a fire hydrant to sit on and enjoy a HdM du Depute. A fellow HK smoker took my picture for posterity.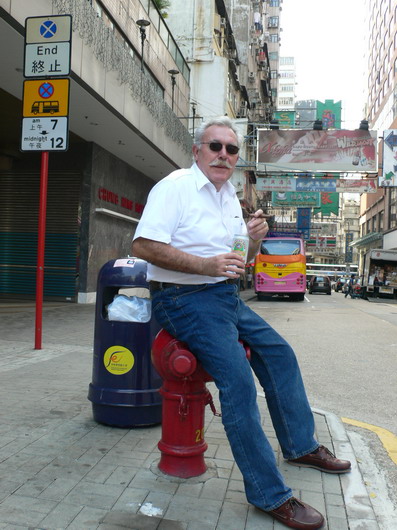 After landing cigar in Saigon Street, Tsim Tsa Shui, HKG
That evening at 9:30 sharp a black Mercedes SL 500 Cabrio turned the corner into Saigon Street and Min Ron Nee was waving at me from behind the wheel.
Before we drove off for the half hour drive to his home and, as I remarked about the gorgeous weather, he asked whether I wanted the roof off. I said yes of course and we enjoyed an open air ride, with Min Ron Nee expertly roaring up and down the hairpin bends in a true rally-driver fashion. I complimented him on his driving skills but he explained that it was actually his wife's car; he is more familiar driving with his vintage Datsun 280Z, purchased firsthand since new.
We reached his residence located about 600 m above sea level where, after being welcomed by his lovely wife and son, I was offered a pot of refreshing tea along with a 25 Cubatabaco Aniversario  corona while my host changed into more comfortable outfit.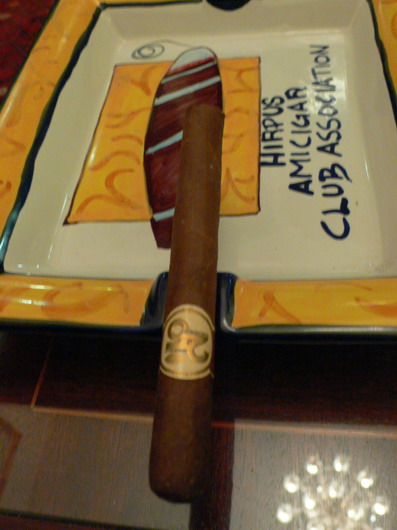 Cubatabaco 25 Aniversario Corona
In a very relaxed atmosphere we had a long conversation on the latest events and I handed him some presents. Ralf Lestat39 had entrusted me with 2 unopened boxes of San Luis Rey small cigars.
As promised I had brought him different high cocoa-content chocolates flavoured with chillies and other spicy flavours. Also, I presented him a mint condition box of San Luis Rey Lonsdales that Urs Portmann had gifted me but which I wanted to figure in Min Ron Nee's collection.
Min Ron Nee, being anonymous, was kind enough to have his wife to take some pictures of the hand over as well as of the following dinner.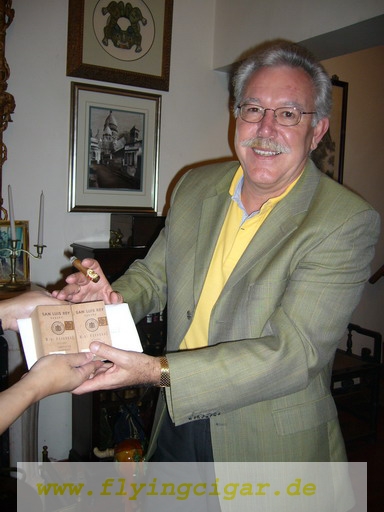 San Luis Rey Mini Cigars by Ralf Lestat39 – Photo MRN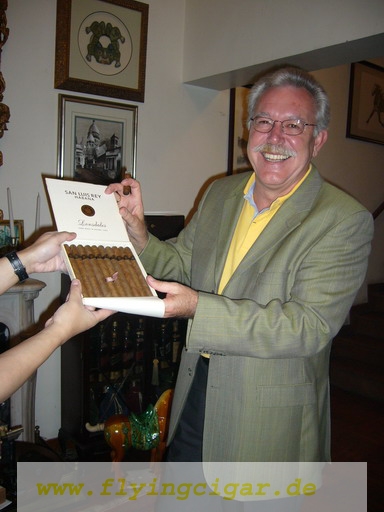 San Luis Rey Lonsdales by Urs Portmann – Photo MRN
The food was once again a distinct pleasure and Min Ron Nee had obviously remembered my preferences, as I feasted on crab, prawns, fishcakes, pigeons, the best mixed fried rice and many more mouth watering dishes.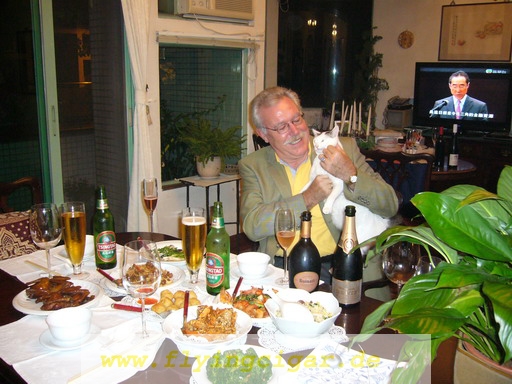 Dinner at MRN's with the house cat – Photo MRN
Once again I could observe firsthand Min Ron Nee's great expertise in champagnes which I had admired during my last visit.
Min Ron Nee said that many people believe in boutique champagne brands without researching on the value of less famous brands. He proved this by opening two 5 year old  NV champagnes for dinner.  A Ruinart Rose NV which we found to be quite weak and of no great pleasure to drink and, when compared to the simultaneously opened brilliant NV Deutz Rose, absolutely paled in comparison.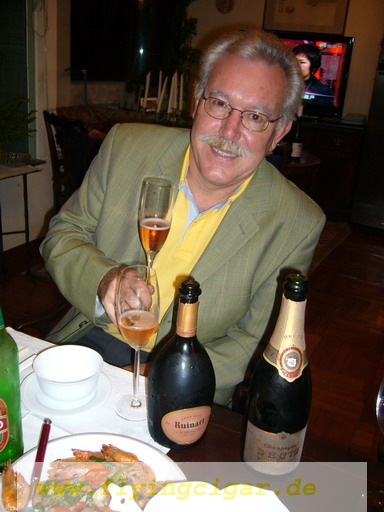 Comparing Ruinart & Deutz at MRN's – Photo MRN
Good advice on champagne here for pseudo experts – not all great names deserve great credit.
Dinner was a long and relaxed affair as we exchanged views on the economy, the incoming US President that we watched on HK TVB Pearl as he had just taken office the day before, the Middle East conflict and other interesting topics.
We then moved to the living room, where I was offered an 1992 Cohiba Robusto as an after dinner cigar while we tried several vintage Cognacs before finding the Chateau Fontpinot ideally suited to the Cohiba.
www.cognac-frapin.com/uk/cognacs/chateau-fontpinot.asp
1992 Cohiba Robusto
Also tried was the Cigar Blend 100% Grande Champagne, Premier Grand Cru Cognac, see this link for the very interesting information:
www.cognac-frapin.com/uk/cognacs/CigarBlend.asp
We continued our conversations on a wide range of topics and, while discussing cigars, I was shown 5 Partagas Visible Inmensos. I had the exclusive pleasure of holding and admiring all 5 Immensos on my lap – one of the rarest Cuban cigars, and believed to be the largest official production vitola ever made, pre or post Revolution.
These are the ONLY 5 post-Revolution specimens known to exist to date within serious collectors' circles. And Min Ron Nee owns ALL of them ! Min Ron Nee planned to smoke one of them during the Chinese New Year festivities.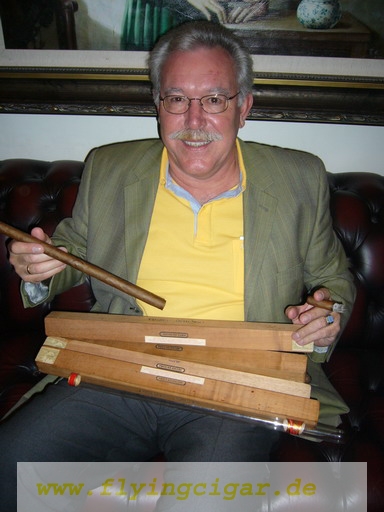 The ONLY 5 post-revolutionary specimens of the Inmenso – Photo by MRN
A most impressive 495 mm long cigar ( about 20 inches ) with a distinct – to me – animal smell and a projected smoking time of ca. 6 hours !
I learned a few days later that the cigar was smoked as intended and the total smoking time was 8 hours 10 minutes.
A very rare box of Dunhill Don Candido 504 Belicoso cigars were also shown, a present from a fellow Hong Kong cigar connoisseur, Fatcigar, who will join the Immenso smoking session with him during the Chinese New Year public holidays.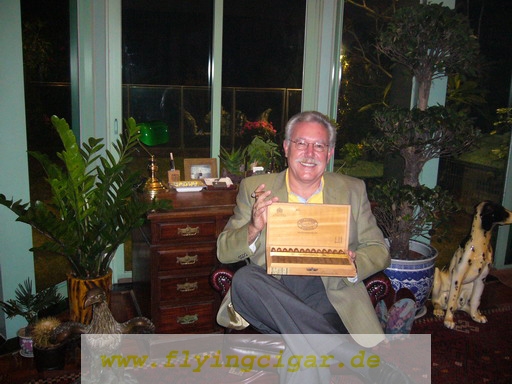 Vintage Dunhill 504 – Photo MRN
By that time I was smoking the BEST cigar I have smoked so far in my cigar life: an early 1980's "Diplomatic" Cohiba Lancero from MRN's collection – Diplomatic meaning cigars that were gifts of the Cuban state to foreign heads of state and/or other dignitaries.
A privilege I truly felt honoured to receive!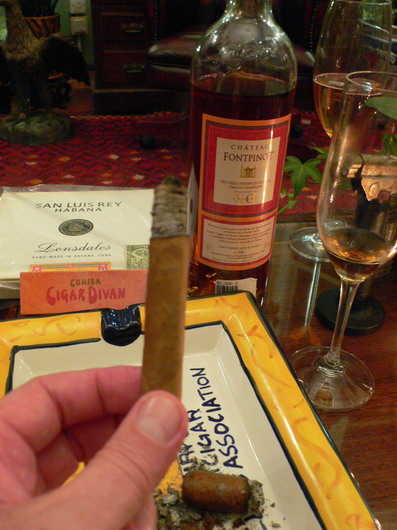 Cohiba "Diplomatic" Lancero & Chateau Fontpinot XO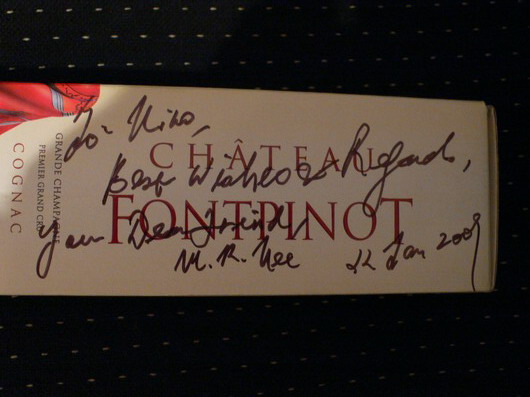 Chateau Fontpinot XO
For this cigar I tried – and succeeded – in using an ultra-slow smoking technique, as MRN had recommended, using as few puffs as possible, to savour the incredible creaminess and the sweet and intense aromas the cigar was sharing with me.
This cigar certainly ranks a perfect 100 points on my scale and will be fondly remembered as being the best and most impressive cigar I have smoked thus far.
It was a most relaxed and intimate meeting, with me for the first time in Hong Kong not worrying about having to fly the next day.
A meeting of minds and an experience that money CANNOT buy.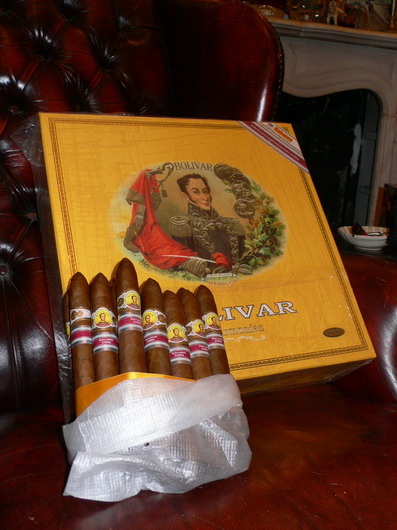 Bolivar Armonias ER China
Nearing dawn I took my leave and said good bye to Min Ron Nee clutching 2 bottles of 1996 Pol Roger Sir Winston Churchill under each arm for Ralf and Mr. Portmann, signed by Min Ron Nee.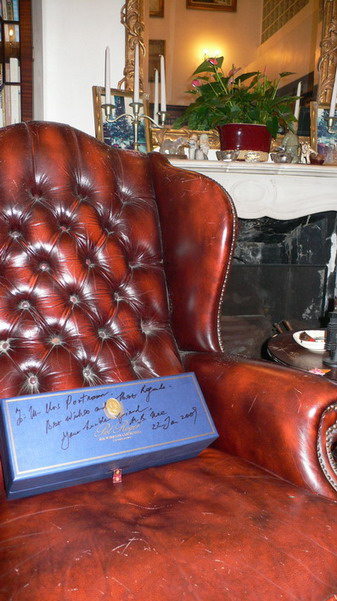 From MRN to Urs Portmann / 1996 Pol Roger Sir Winston Churchill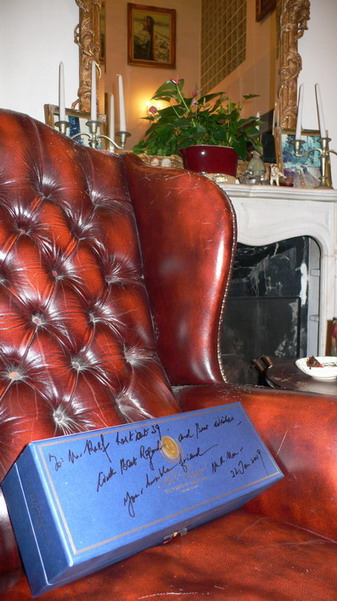 From MRN to Ralf Lestat39 / 1996 Pol Roger Sir Winston Churchill
From MRN to Nino / 1996 Pol Roger Sir Winston Churchill
What a most generous host!
Actually, getting to sleep that late – or rather early – was a good idea as I basically remained on my body clock.
The early afternoon began with a light breakfast, a walk down Nathan Road and a call by Min Ron Nee inviting me to a late lunch.
Min Ron Nee's working day is very long but he is free to take a long break in the afternoon from his demanding work.
He and his wife picked me up and we drove around the corner past Jordan Road to the Kowloon Cricket Club grounds.
There, at the Kowloon Bowling Green Club, a private Club established by four Scotsmen in 1900, we had a very good Chinese lunch and a good conversation on Cuba and cigars before moving outside for a cigar at a table and some chairs in the parking lot.
The Club's "smoking area".
Min Ron Nee brought out an El Rey del Mundo 120 Aniversario humidor from the back of his Mitsubishi Pajero and placed it on my lap. His Mitsubishi Pajero is not the current model, it is the exact same model used by the People's Liberation Army troops in Hong Kong. The same car which had beaten Land Rover and won several trans-Sahara Desert Racing trophies in the past. I could observe that Min Ron Nee is very obsessed about classic cars.
The ERM 120 Aniversario Humidor contains 25 Churchills (Pacos) and 25 Torpedos.
Help yourself is an invitation I could not refuse.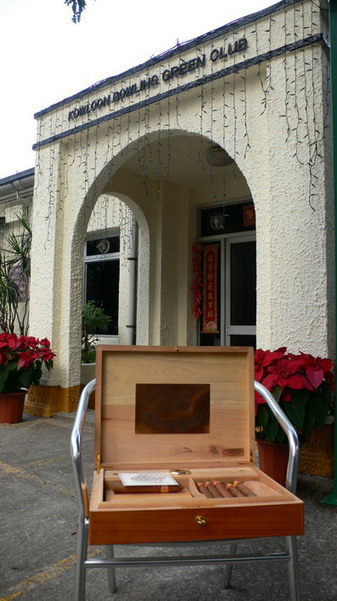 ERM 120 Aniv. Humidor at Kowloon Bowling Green Club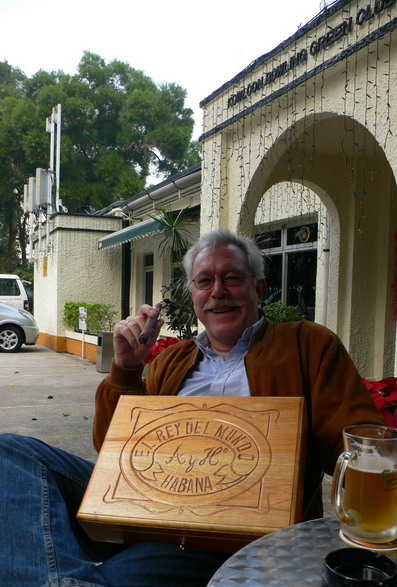 ERM 120 Aniv. Humidor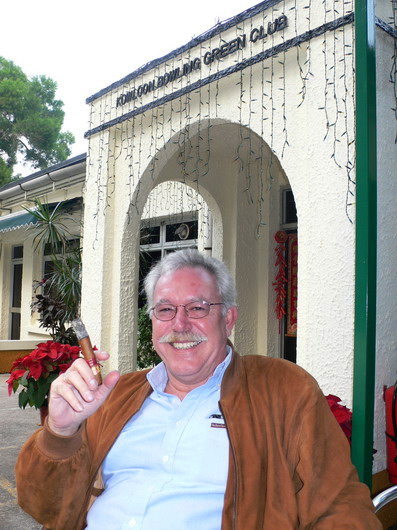 Smoking a ERM 120 Aniversario Torpedo
We smoked this fantastic cigar – a bit young but with huge potential – to a glass of cold Tsingtao beer while continuing our conversation on Cuba. He graciously gifted me some ERdM 120 Aniversario cigars, older La Flor de Canos and some Bolivar Armonias ER China for later smoking by myself.
No snobbish or exclusive club feeling here. I was smoking a mind-blowing cigar from a limited humidor with the elusive – and reclusive – most important personality in the world of cigars sitting at a metal table in a ( admittedly exclusive and gated ) parking lot !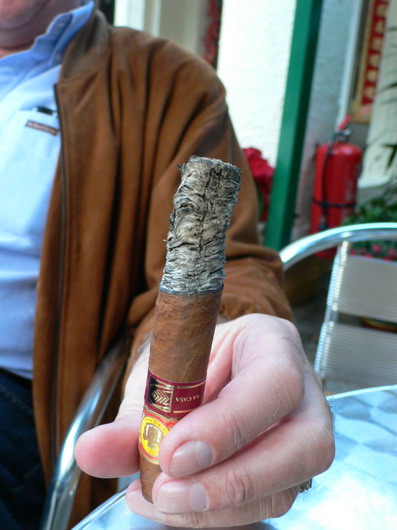 ERM 120 Aniv. Torpedo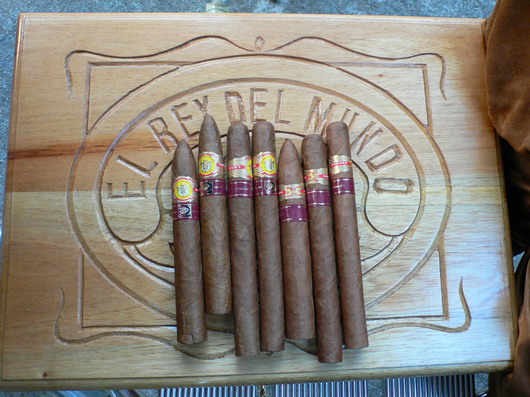 ERM 120 Aniv. Torpedos & Churchills (Pacos)
Again another experience that money cannot buy.
We left at around 6 pm, as he had a busy working evening ahead. Returning to the hotel I noticed how he was greeted by friends happy to chance upon him.
Somewhat light headed I took a short nap before heading out into Hong Kong's bustling Night Market at Temple Street.
A very light dinner of some scallops and 2 squillas ( a sort of crayfish) with some of my crew and some very friendly locals at an open air corner stall.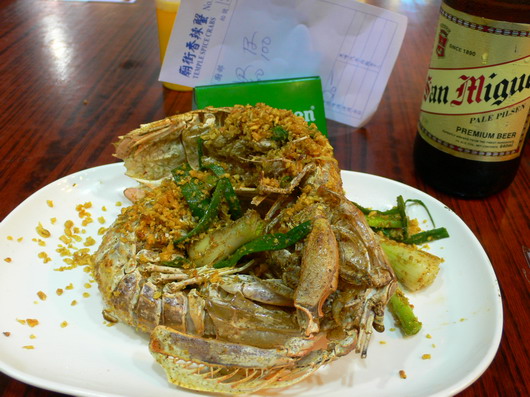 Squilla dinner in Temple St.
The friendly locals were celebrating graduation from law school and Ruby, a very handsome, bright and dynamic lady lawyer, was happy to share her enthusiasm with us – we congratulated her and her fellow students on this important achievement.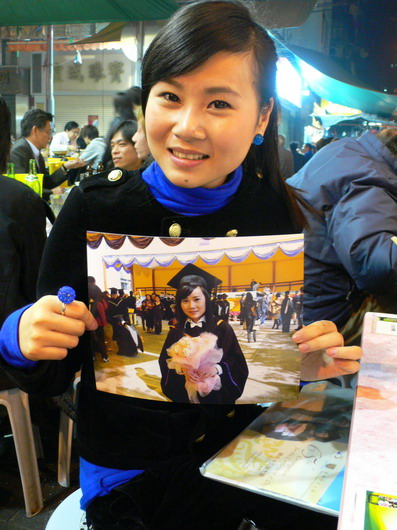 Just graduated Ruby
Kerstin, one of the flight attendants in my crew, tells us of an interesting Russian Bar called "Balalaika" that offers a "freezer" vodka room at minus 20 degrees Celsius and fur coats and fur hats to enter the Siberian-hunting-lodge style room and taste a selection of over 60 vodkas there.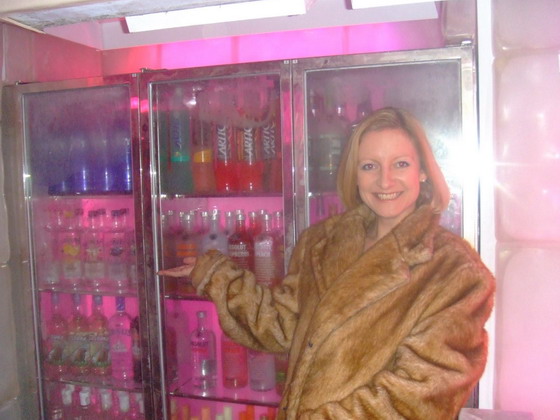 Kerstin in the Vodka Freezer – HK
The "Balalaika" Bar is located both in Central at Lan Kwai Fong or in Tsim Tsa Shui at Knutfords Terrace.
I smoked a cigar in the mild & warm open air, enough cold was waiting for me in Europe, strolled through the night market and then it was time to rest for next day's flight home.
And a good thing I had 9 hrs of sound sleep and was well rested, as we encountered technical problems with our B-747-400 that forced a 4 hr. delay upon us.
While still at the gate with a full passenger load, an outflow valve on a wing opened and 400 kg of kerosene fuel spilled onto the tarmac. Luckily no one was smoking a cigar : – ))
We were immediately surrounded by the airport's fire brigade and the fault was repaired.
One of the very few incidents I have experienced in my career.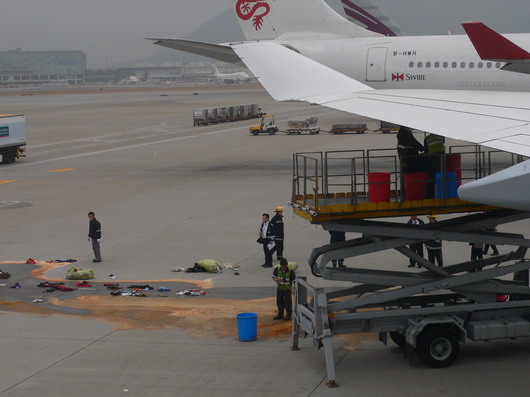 Kerosene Spill contained
Despite the troubles and the long delay all passengers disembarked in Frankfurt with a word of thanks for the crew and no complaints – that made the "after landing" cigar taste even better. It was a well done job.
Reward for this challenging flight is a long time off now before I take off again to Beijing in February after celebrating Mr Portmann's birthday in Switzerland along with Inge.
Then off to Singapore and a celebration of my own birthday with a Sobresaliente or two in Jimmy's lounge before heading for Havana to attend the XI Festival del Habano with the Portmann "Band of Cigar Gypsies".
This time off right now gives me pause to reflect on this memorable visit to a great expert and gentleman – thank you, Min Ron Nee!
Additonal pictures to this report :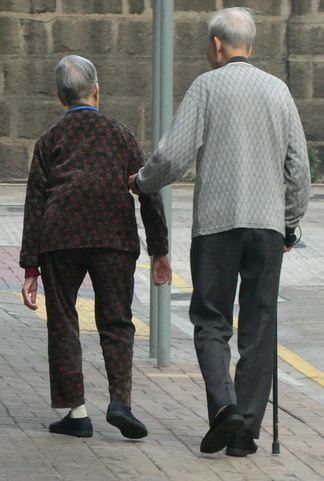 Touching scene on Saigon St.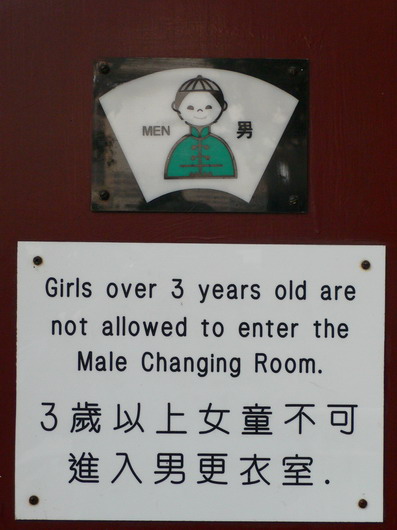 Kowloon Bowling Green Club
Temple Street Food Market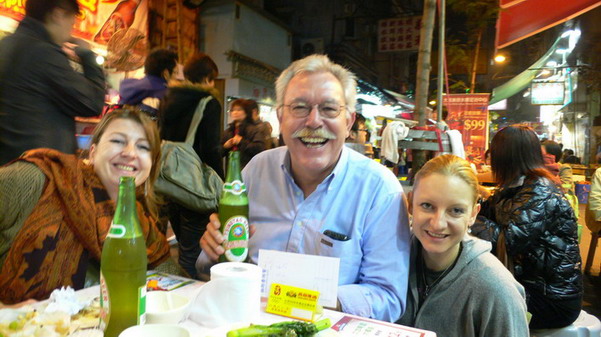 With Astrid & Kerstin at Temple St. Food Market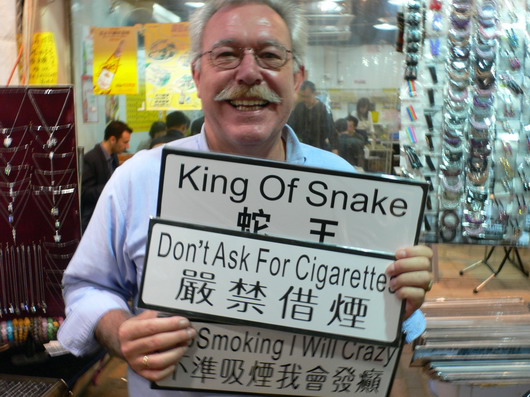 HK Souvenirs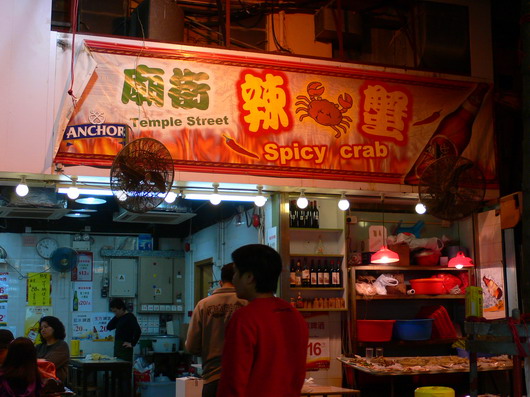 Temple St. Food Market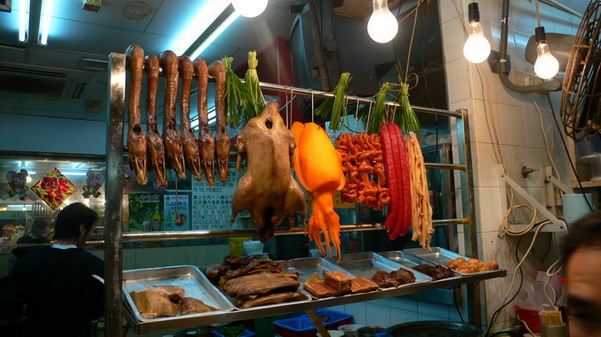 Temple St. Food Market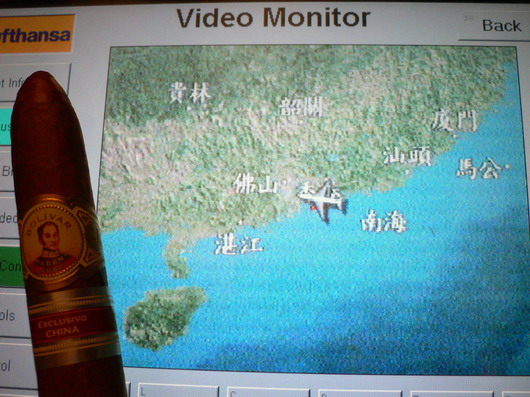 Bolivar Armonia ER China over Hong Kong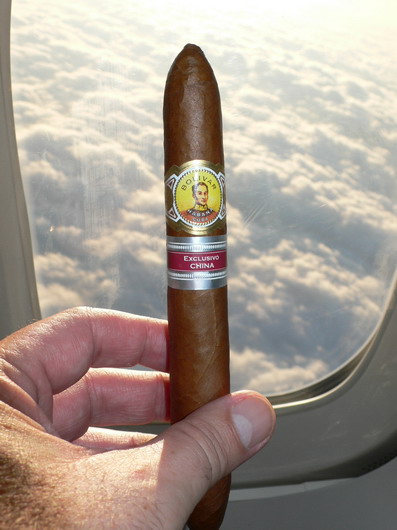 Bolivar Armonia ER China over China
Copyright 01-2009 © Ninos Flying Cigar