30 Jan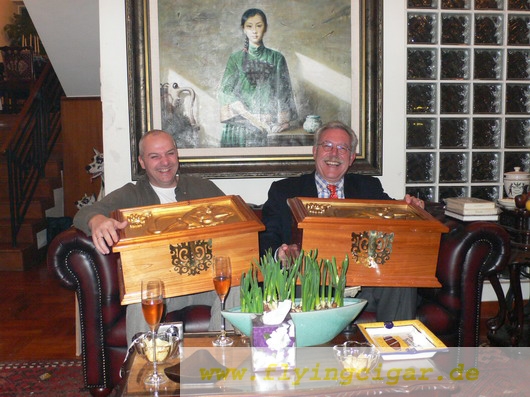 Chris & Nino with first & second edition Guayasamin Humidors at MRN's house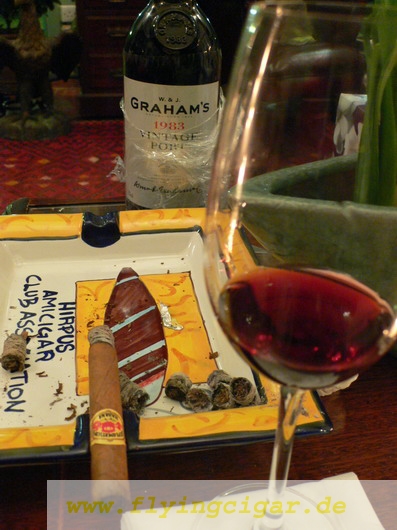 Very rare Diplomaticos Nr. 6 in MRN's house
January 2008
Once again I flew to Hong Kong in late January and was happily looking forward to meeting Min Ron Nee again, the well known collector and respected author, with whom I had made an appointment to meet on my day off there.
I did not imagine I would meet an old acquaintance from Hamburg there as well.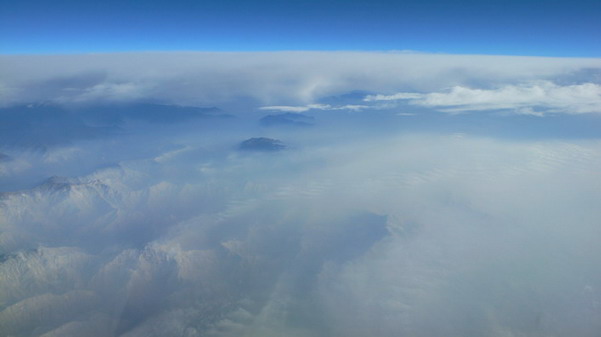 On Lima Triple Eight airway to HKG
The forecasted mild weather had been chased away by a cold front bringing rain and cold temps of just 13 C on my arrival. It made the city grey, damp and uncomfortable – the perfect conditions to have a beer and a cigar before hitting the sack for a few hours sleep.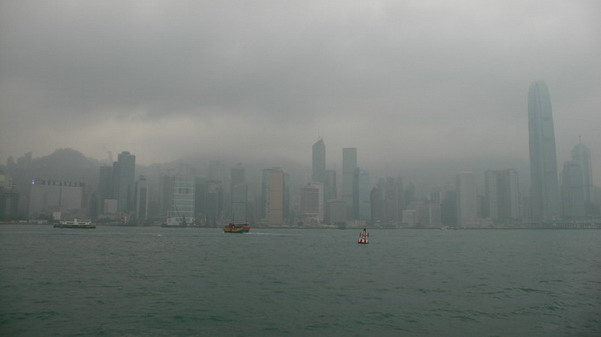 Central Hong Kong Island
I met the crew at 7 pm for dinner in a place I enjoy, the "American Restaurant" on Wanchai's Lockhart Rd. – the name misleads, it is a purely Beijing / northern Chinese food place.
Peking duck was expertly carved and served, sizzling hot beef and prawn platters steamed on the table, soon joined by other delicacies and large bottles of Tsingtao brew.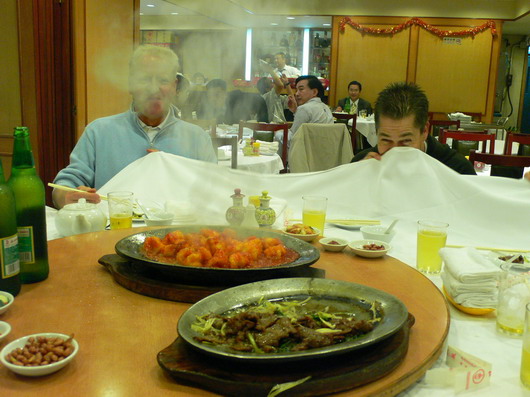 American Restaurant, Wanchai
For dessert I bid farewell to my crew and took a taxi to the city's newest cigar lounge, the "Cohiba Atmosphere" lounge (P&L) located in Queens Road, Central.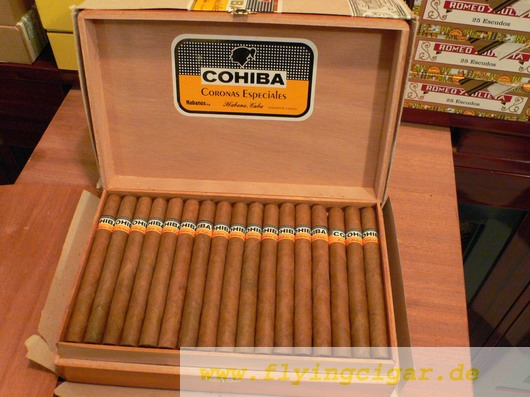 Cohiba Atmosphere Lounge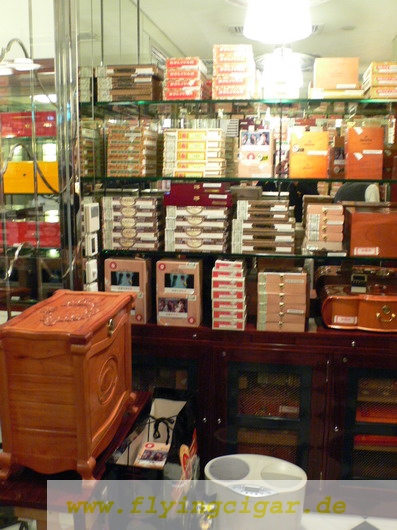 Cohiba Atmosphere Lounge
The lounge is just 6 months old and belongs to David Tang's Pacific Cigar Imperium.
I knew Cigarro and Cohiba Divan from previous visits so I was very curious about this new location.
Armed with a personal invitation by a friend able to open doors in Hong Kong, I was let in and warmly welcomed by Terence, previously at LCH Sheraton. I had announced myself by phone earlier to Teddy, the manager, as Cohiba Atmosphere is strictly members and guests only and that is taken seriously here.
Not wishing to help myself off my friend's private locker, I had Terence show me the spacious Humidor. Torn between Escudos and Ingenios I chose the latter. BD 10/07. Beverages were coffee, water and a 12 yr. old Macallan.
Very good cigar, my second in 3 weeks and perfectly ready. I have noticed the 2006/2007 production to be top notch, an opinion which seems to find consensus.
Follow up was a Petit Edmundo while having a long conversation with Terence on Cuba, the world at large and Hong Kong cigars.
As for the lounge, I think it is a great place and I like it indeed. It has an Art Deco touch that looks very elegant. The feeling is of space and intimacy and all the mirrors plus the white paint give it brilliance and light.
Every wall is homogenously lined with tastefully integrated private lockers.
The Bar is up to the job with a great little menu should you not want to use your private stock.
Service is discreet, professional and extremely friendly.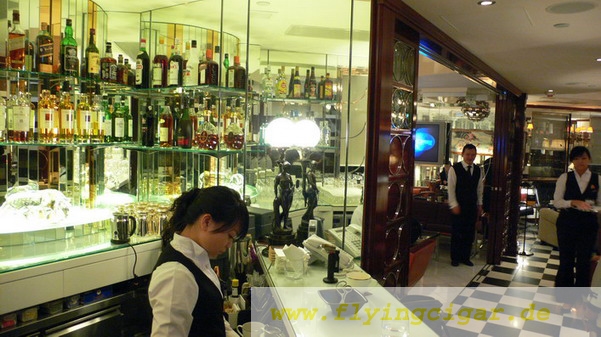 Cohiba Atmosphere Lounge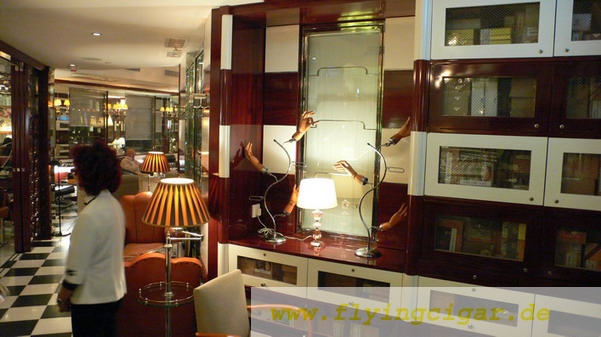 Cohiba Atmosphere Lounge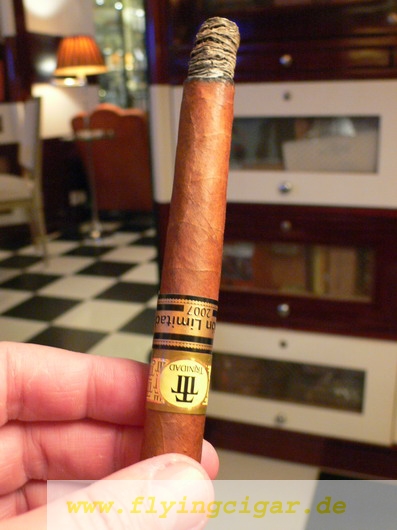 Cohiba Atmosphere Lounge
Along with Cohiba Divan it would be my favourite lounge in the city.
I left before midnight, returned to my hotel, changed and went out again into Wanchai's pulsating nightlife which starts way after midnight. There I met my crew again, having a good time at "Dusk till Dawn" an expat packed bar with a live band and a dance floor.
A few beers and some dancing, declining offers from pretty girls, very relaxing atmosphere, there seems to be half of Manila's prettiest things hanging around Wanchai.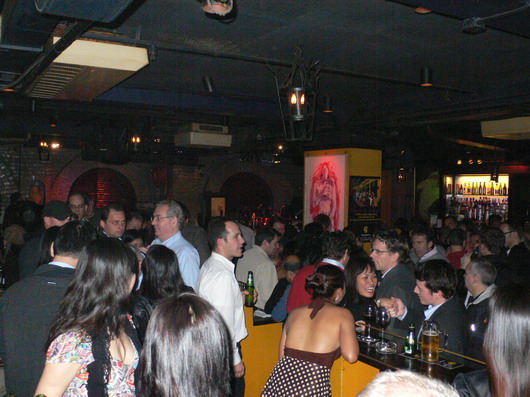 Dusk till Dawn, Wanchai
The next day again started off grey and rainy.
Victoria Harbour
A quick hop on the Star Ferry to Kowloon side and a walk up and down Nathan Road, there the only item on my shopping agenda was quickly and efficiently dispatched – new glasses that were ordered midday were delivered 10 hours later, and I'm talking progressive lenses here !
Back in the Hotel I received word that Christoph Wolters, the Hamburg merchant, had just landed in Hong Kong and that he would join Min Ron Nee and me for lunch.
No coincidences – it is a small cigar world.
And so we picked up Chris and were driven out by his chauffeur to Sai Kung, an idyllic fishing village and typhoon shelter on the Sai Kung peninsula, about an hour's drive from Hong Kong. Min Ron Nee's chauffeur is an expert driver, handling the fog and slippery roads professionally. Min Ron Nee never drives himself – a luxury in Hong Kong.
http://en.wikipedia.org/wiki/Sai_Kung
Overcrowded in the summertime we had the place almost to ourselves. We enjoyed the beauty and peaceful melancholy of the fishing village in the fog and rain. At the restaurant we were almost the only patrons.
We selected our meal from the tanks full of live seafood and celebrated our meeting with a delicious 1996 Krug Champagne and rare Exhibicion Nr. 3 cigars from the Ziplock bag.
Min Ron Nee, our gracious host brought the fitting wines for our seafood festival lunch.
The 1996 Chateau Smith Haut Lafitte perfectly suited the Abalone and squid sashimi as well as the steamed crab, while the 1996 L. Sipp Gewürztraminer again was perfect for the chilli dishes.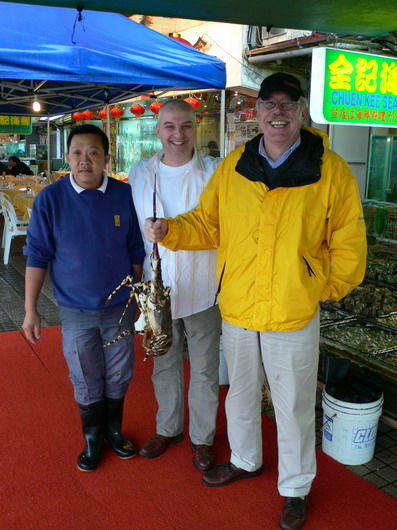 With Chris & lunch in Sai Kung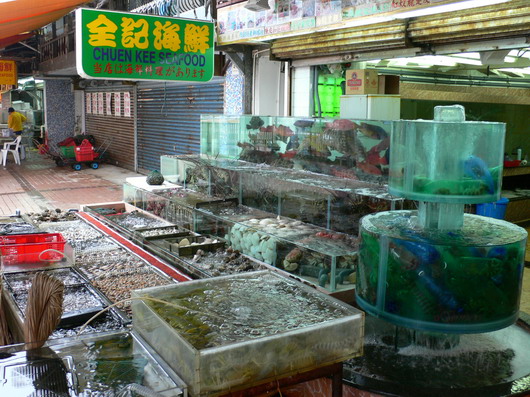 Sai Kung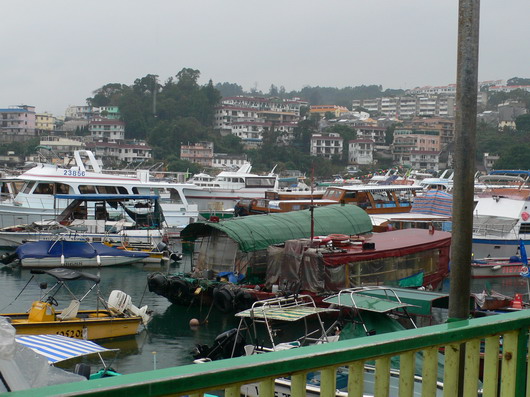 Sai Kung
Lunch was gloriously delicate and perfectly simple.
Sai Kung's charm is that it is a real fishing harbour, not just a tourist trap. Provided you speak Cantonese you can even yell your orders down to the boats and negotiate your choice of seafood with the fishermen. Then you carry the plastic bags with the flopping fish right to the restaurants and have it cooked your way.
Just as we did bring our own wine, here bring your own fish is still common.
A bet ensued between Chris and Min Ron Nee that vintage champagne, if opened a few hours before drinking to let it breath will taste better than freshly opened. We wanted to try this theory that evening so Min Ron Nee called ahead and had 2 bottles of 1985 Veuve Clicqot Rose from his great collection prepared for 9 pm.
We returned to Hong Kong where Chris and I were driven by MRN's chauffeur and  had a short stop-over at the Mandarin's Hotel Cohiba Divan lounge.
Simon Lam, the manager was expecting us, having received a call from Min Ron Nee announcing our visit. A small intimate lounge with tons of atmosphere, it is the "nucleus" of Hong Kong's cigar lounges.
Fortunately, smoking is still permitted also at the adjoining Captain's Bar.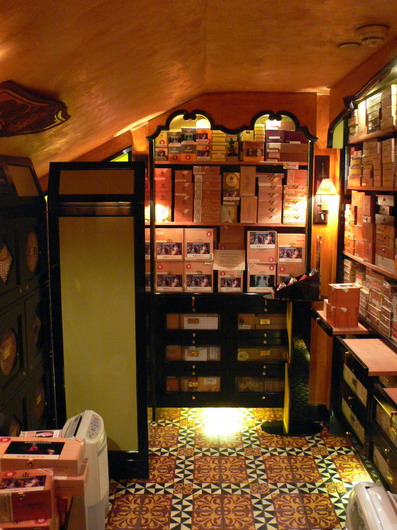 Cohiba Divan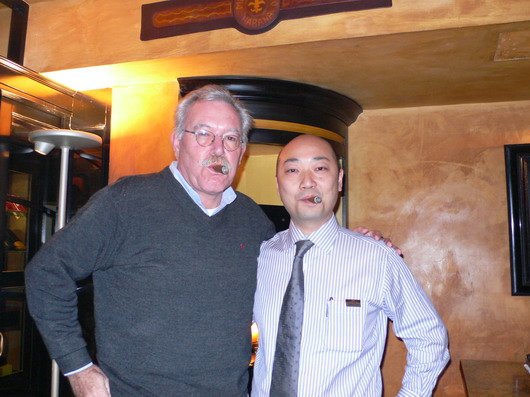 With Simon Lam, Cohiba Divan
Simon offered us cigars from Min Ron Nee's locker, it had to be something small, regrettably just an hour's time was available to us. So I chose a Sancho Panza Torpedo that looked very much like a Campana ( or vice versa ). We finished off the remainder of a 30 yr. old Ballantines bottle with our cigars.
We managed a lightning trip back to our hotels to change, a logistical miracle as we stayed in separate hotels and the rush hour traffic in Central and Wanchai is maddening. Pick up sharp on time was by Min Ron Nee's trusted chauffeur again and we drove to his home outside Hong Kong.
Back to pleasure it was again, as Chris and I tried to win the champagne bet. We were convinced we had it bagged, but due to a faux pas it all ended in a draw. No harm done to our high spirits, and we were taken by Min Ron Nee and his elegant and lovely wife to dinner.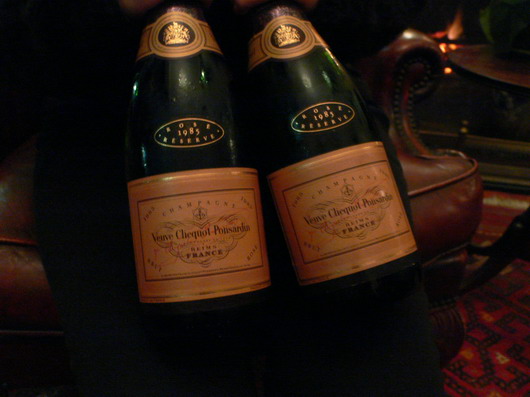 Vintage Veuve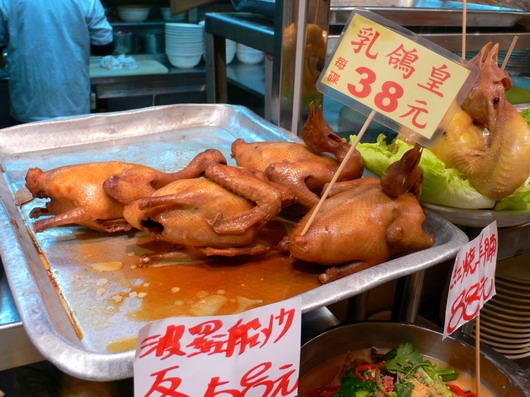 Delicious dirty spoon pigeons
The place chosen for dinner was exactly the kind of place I like to call a "dirty spoon" – my favourite places to eat worldwide.
Min Ron Nee's wife was caring enough to wash our plates and chopsticks in hot tea, explaining that while the food was divine you'd better made sure of hygiene yourself – very practically minded.
Food again was sensational. Min Ron Nee had promised I should have all the crabs I wanted and the promise was kept ! Boiled, steamed, fried with chilli and spices, just a crab festival again, plus baked fish, grilled pigeons, spicy Beef, crab meat balls – the dishes piled up on the rickety plastic table.
Great food we enjoyed alongside a magnum of Drappier champagne and vintage Coronas.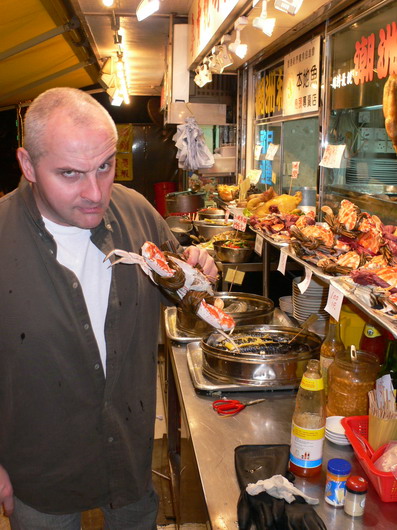 Mean looking Chris-Crab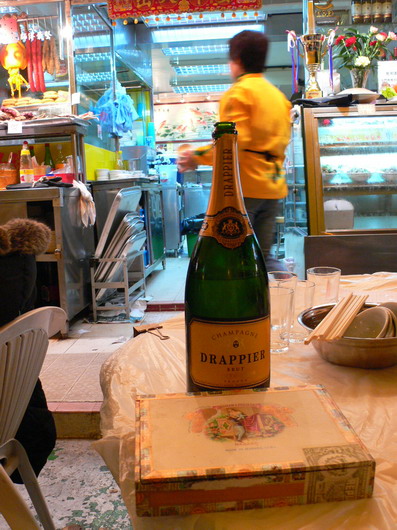 Fine life at the dirty spoon
A luxurious dinner in a dirty spoon – just perfect !
Back in Min Ron Nee's salon we ended this overwhelming day with more champagne and a final 1983 Graham's Port to rare Diplomaticos Nr. 6 full of taste and aroma. Only our host had the misfortune to grab the box' lemon cigar, but the second one showed its true colours and made amends.
I had the privilege of taking some truly amazing pictures, among them of the only specimen known in the world of the Partagas Fabulosos, shown here in MRN's house. To say I was overwhelmed is quiet an understatement …
Also, I had the privilege of admiring the second of the extremely rare Siglo XXI Humidors in a short time, as Min Ron Nee graciously showed us in one of his garages where a Siglo XXI – albeit empty, of course, cigars are stored elsewhere – is "parked".
This is an anecdote that has been so far only been published in a cigar website.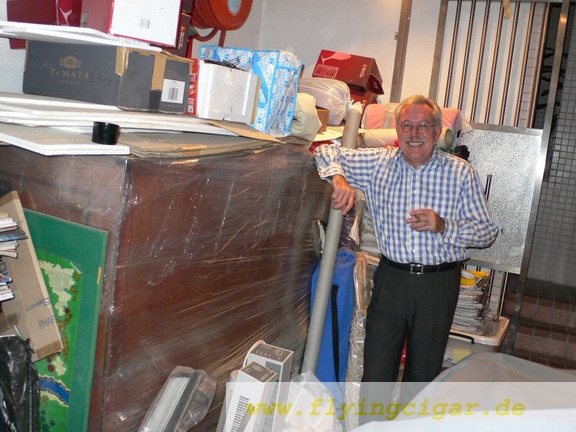 A very exclusive & elusive Humidor – the Siglo XXI "parked" in MRN's garage
A fantastic ending to a dreamlike day.
And it should be my reward for the messed up return flight next afternoon, as it was anything but dreamlike due to technical problems that soured the 12 hrs. flight time back.
Now it's off to some sun in southern India and then , as every year recently, I will celebrate Chinese New Year in China – Beijing, with some sun in Dubai thereafter and Havana looming ahead for the Festival.
Living well ist he best revenge – my deepest gratitude for a great time in Hong Kong to Mr. Min Ron Nee !!
Deutsche Version :
Hong Kong – Ein Tag mit Min Ron Nee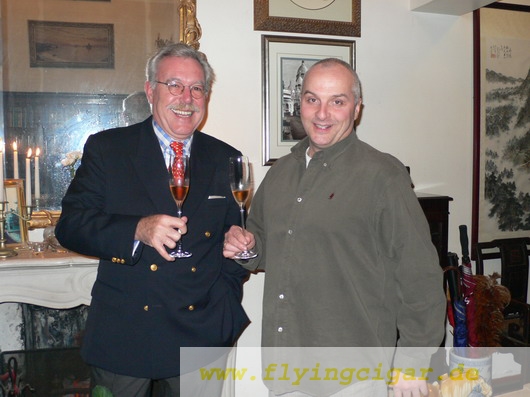 Vor MRN's offenem Kamin / In front of MRN's fireplace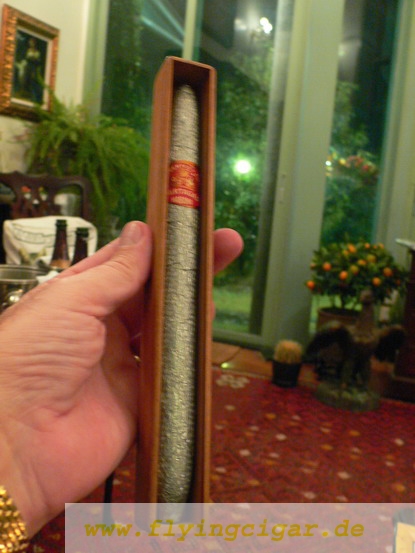 Einzigartige / Unique Partagas Fabulosos in MRN's house
Januar 2008
Ende Januar flog ich nach Hong Kong und freute mich sehr auf ein erneutes Treffen mit dem bekannten und respektierten Sammler und Autor Min Ron Nee, mit dem ich mich für meinen freien Tag verabredet hatte.
Ich ahnte nicht dass ich dort auch noch zufällig einen guten Bekannten aus Hamburg treffen würde.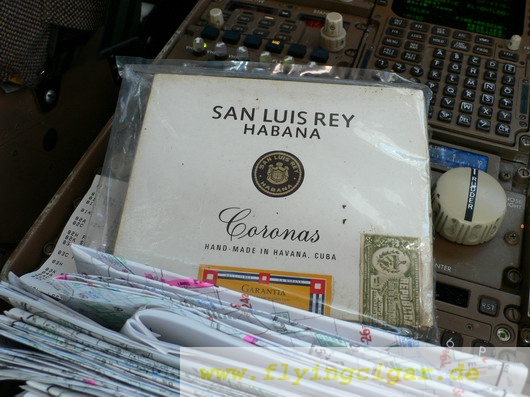 Auf der Lima Triple Eight Luftstrasse nach HKG
Am Ankunftstag war das vorgesehene gute Wetter einer Kaltfront gewichen, Regen, Kälte mit nur 13 Grad machten die Stadt grau und ungemütlich – das perfekte Wetter um nach einem Bier und einer Zigarre ein paar Stunden ins Bett zu gehen.
Um 19h traf ich mich dann mit der Crew um in Wanchai in der Lockhart Rd. ins "American Restaurant" – der Name täuscht, es ist ein Beijing Food Restaurant, lecker essen zu gehen.
Es gab die gute Peking Ente, fachmännisch serviert, am Tisch gebratenes Beef und Prawns uns allerhand andere Leckerbissen in gewohnt guter Qualität.
Zum Nachtisch verabschiedete ich mich von meiner Crew und fuhr allein in die neueste Zigarrenlounge der Stadt, die Cohiba Atmosphere Lounge ( P&L ) in der Queens Road, Central.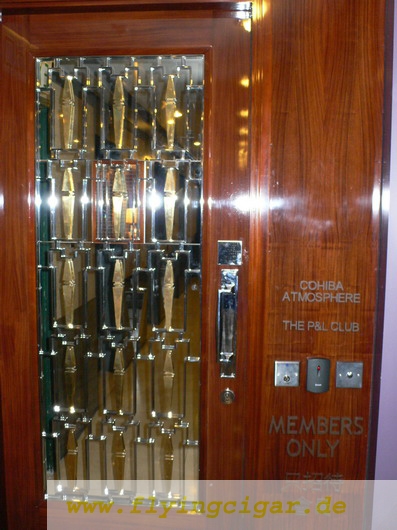 Cohiba Atmosphere Lounge
Diese Lounge besteht seit 6 Monaten und gehört David Tang's Pacific Cigar Imperium.
Cigarro und Cohiba Divan kannte ich von früheren Besuchen, daher freute ich mich auf diese neue Location.
Ich hatte eine persönliche Einladung von einem Freund der in Hong Kong Türen öffnet, denn die Cohiba Atmosphere ist ein Members Only Club, und das nimmt man hier Ernst.
Zuvorkommend freundlich willkommen geheissen wurde ich von Terence, der aus der LCH im Sheraton kommt. Beim Manager Teddy hatte ich mich vorher telefonisch angemeldet.
Cohiba Atmosphere Lounge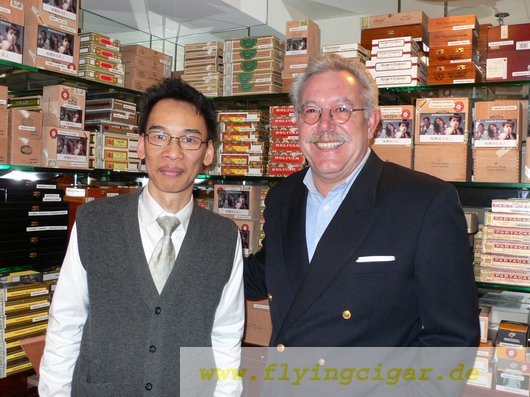 Mit Terence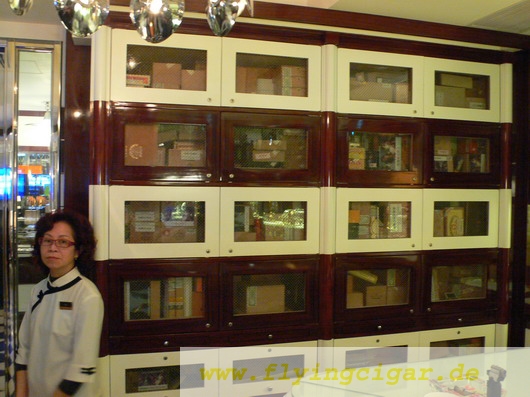 Cohiba Atmosphere Lounge
Ich bediente mich nicht aus dem Schliessfach meines Freundes, sondern liess mir einige Zigarren im geräumigen Humidor zeigen. Zwischen Escudos und Ingenios wählte ich letzter aus, BD 10/07.
Dazu einen Kaffee, Wasser und einen 12 yr. Old Macallan.
Eine sehr schöne Zigarre, meine zweite in 3 Wochen, sehr präsent, perfekt. Die 2006/2007 Produktion ist IMHO die Beste der letzten Jahre.
Danach ging es weiter mit einer Petit Edmundo während ich mich mit Terence lange über Kuba, Zigarren und die Welt unterhielt.
Die Lounge selbst gefällt mir ausgesprochen gut mit ihrem Art Deco touch der ihr sehr gut steht.
Das Raumgefühl ist sehr grosszügig, und sie ist sehr "brilliant" durch die Spiegel die sie hell erscheinen lassen.
An jeder Wand sind geschmackvoll und homogen private Schliessfächer eingebaut.
Die Bar ist perfekt und die Karte lässt nichts zu wünschen übrig – ansonsten hat man als Mitglied seinen eigenen Vorrat parat.
Der Service ist diskret, professionell und äusserst freundlich.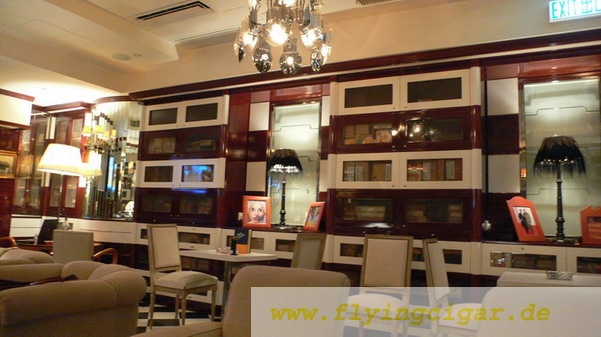 Cohiba Atmosphere Lounge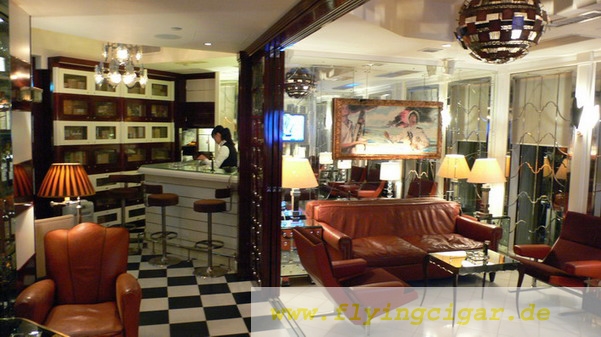 Cohiba Atmosphere Lounge
Zusammen mit dem Cohiba Divan ist sie mein Favorit in der Stadt.
Vor Mitternacht verabschiedete ich mich, fuhr ins Hotel zurück, umgezogen und raus ins Nachtleben von Wanchai, das erst nach Mitternacht beginnt zu leben.
In der "Dusk till Dawn" Bar traf ich auf meine Crew die es sich bei live Musik gut gehen liess.
Ich genoss ebenfalls bei einigen Bieren die Musik und die Tanzfläche, Angebote der anwesenden pretty girls ablehnend. Im Nachtleben Wanchais tummelt sich halb Manila.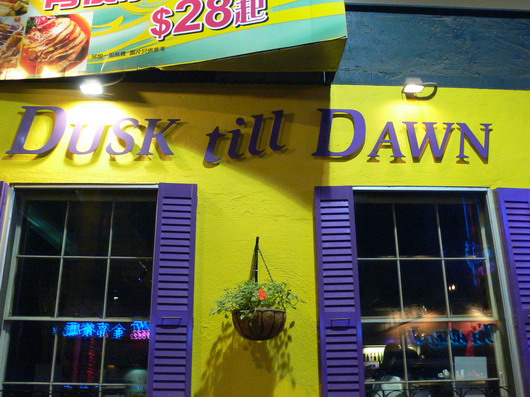 Dusk till Dawn, Wanchai
Der nächste Tag begann leider wieder grau und regnerisch.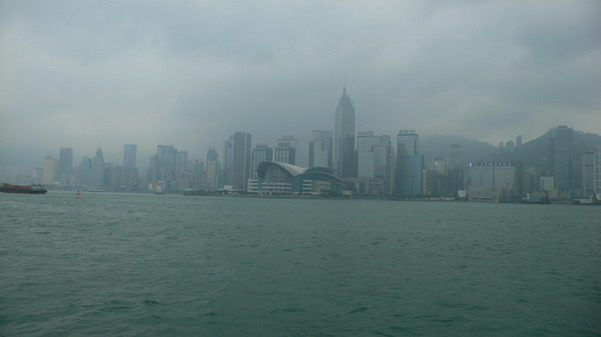 Blick auf Hong Kong Island
Mit der Star Ferry war ich schnell in Kowloon und lief durch die Nathan Road entlang. Mein einziger Auftrag, eine neue Brille, wurde schnell und fachmännisch erledigt, Mittags bestellt und Abends erhalten. Und das bei Gleitsicht !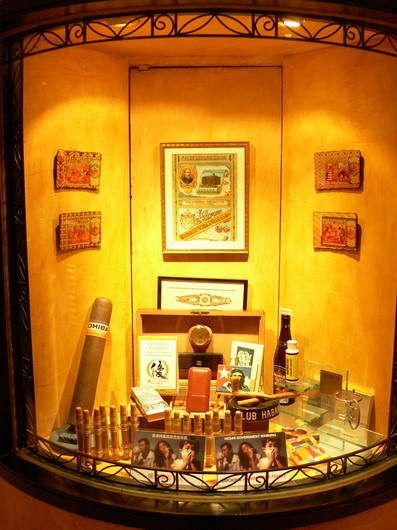 LCH Sheraton HKG
Mittags zurück im Hotel bekam ich die Nachricht dass Christoph Wolters gerade in HKG gelandet war und sich dem Mittagessen mit Min Ron Nee und mir anschliessen würde. Eine kleine Zigarrenwelt in der es keine Zufälle gibt.
So holten Min Ron Nee und ich Chris ab und wurden von seinem treuen Chauffeur fast eine Stunde lang nach Sai Kung, einem idyllischem Fischerort an der gleichnamigen Halbinsel gefahren. Wie nicht anders zu erwarten fährt Min Ron Nee nie selbst – er hat dafür einen wirklich die Strassenverhältnisse (Nebel, glatte Strassen, Regen) beherrschenden Fahrer der auch uns zur Verfügung stand.
http://en.wikipedia.org/wiki/Sai_Kung
Hier genossen wir ein ausgelassenes Seafood Fest – sehr ruhig, wir waren fast die einzigen Gäste im Hafenrestaurant. Im Sommer überfüllt, hatten wir den Ort, die Schönheit und Melancholie des Fischerdorfes im Nebel ganz für uns.
Nachdem wir unsere Mahlzeit frisch aus den Tanks ausgesucht hatten, feierten wir unser Treffen mit einem vorzüglichen Krug 1996 Champagner und alten 80'er Exhibicion Nr. 3 Zigarren aus der Ziplock Tüte.
Min Ron Nee, unser grosszügiger Gastgeber, hatte zum Mittagessen noch eine Flasche 1996 Cht. Smith Haut Lafitte, ideal zum Sashimi und Krabbe, sowie einen 1996 L. Sipp Gewürztraminer mitgebracht. Dieser passte wiederum perfekt zu den Chili Gerichten.
Es gab Abalone und Tintenfischsashimi, Krabben, Rindfleisch mit Chili und andere Spezialitäten. Alles einfach und delikat.
Man kann hier sogar, Sprachkenntnisse vorausgesetzt, den Fisch direkt von den Fischern aus den Booten kaufen und dann den Plastikeimer zu den Restaurants bringen wo es nach eigener Wahl zubereitet wird.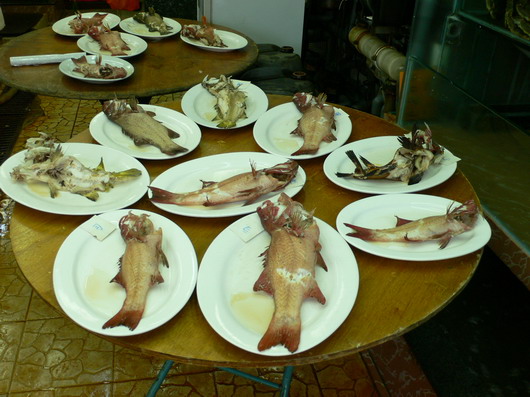 Nicht für uns / Not for us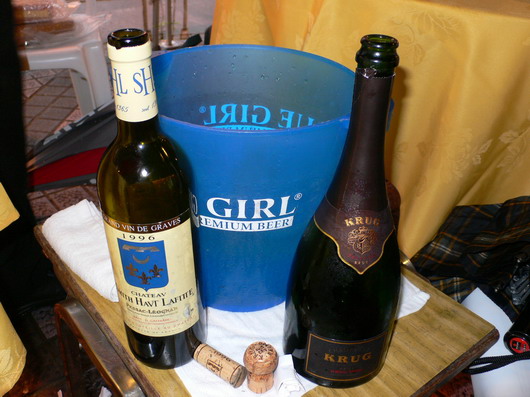 Für uns / Bring your own at its finest
Eine kleine Wette entwickelte sich zwischen Christoph und Min Ron Nee und zwar dass alter Champagner, rechtzeitig nur zum "atmen" geöffnet, besser schmeckt als frisch geöffneter. Diese Theorie wollten wir dann Abends testen. Also rief Min Ron Nee zu Hause an und veranlasste die Vorbereitung zweier 1985 Veuve Clicqot Rose Flaschen aus seiner riesigen Kollektion.
Zurück in Hong Kong ging es mit Cristoph in die Cohiba Divan Lounge im Mandarin Hotel wo uns sein Chauffeur brachte.
Cohiba Divan
Hier wartete bereits Simon Lam, der Manager, der einen Anruf von Min Ron Nee erhalten hatte dass wir im Anmarsch seien. Eine kleine Lounge mit viel Atmosphäre, ist es die "Keimzelle" der Zigarrenlounges in Hong Kong. In der Captain's Bar darf ebenfalls noch geraucht werden, was erfreulich ist.
Aus Min Ron Nee's Schliessfach bekamen wir Zigarren angeboten, es musste etwas kleines sein, denn wir hatten nur eine knappe Stunde Zeit.
Ich entschloss mich für eine Sancho Panza Torpedo die fast wie eine Campana aussieht ( oder umgekehrt). Dazu beendeten wir den Rest einer Flasche 30 yr. Old Ballantines.
Kurz wieder ins Hotel, umgezogen und wieder weiter. Eine logistische Meisterleistung, denn der Feierabendverkehr in Central und Wanchai ist heftig. Min Ron Nee's Chauffeur holte uns pünktlich wieder ab und es ging zu Min Ron Nee's Haus ausserhalb Hong Kong's.
Bei Min Ron Nee im Salon versuchten wir die Champagner Wette zu gewinnen. Christoph und ich waren uns sicher, aber durch einen faux pas gibt es einen Unentschieden. Das tat der Stimmung keinen Abbruch und es ging mit unserem Gastgeber Min Ron Nee plus seiner bezaubernden und sehr attraktiven Frau zum Abendessen.
Das "Restaurant" war genau das was ich gerne einen "Schmutzigen Löffel" nenne – und wo ich am liebsten weltweit esse.
Min Ron Nee's Frau wusch liebevoll unsere Schalen und Besteck mit Tee ab – das Essen sei göttlich, die Sauberkeit stelle man lieber selbst sicher, meinte sie sehr praktisch veranlagt.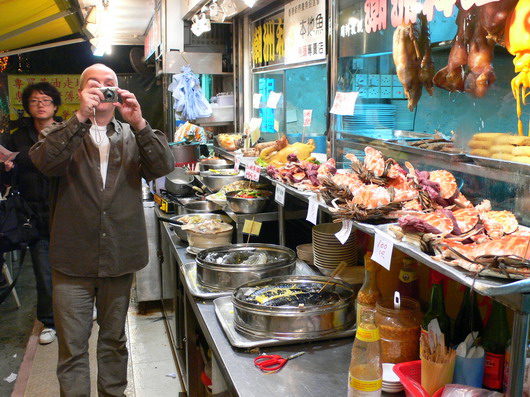 Chris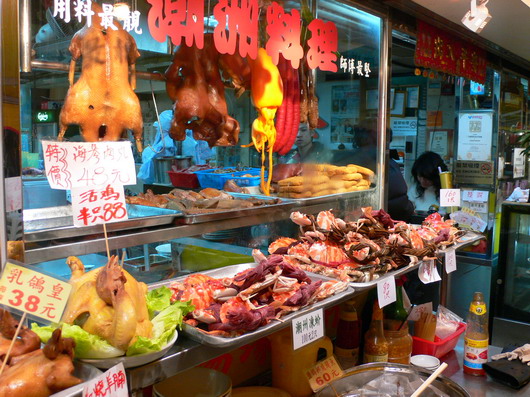 Leckerer Schmutziger Löffel
Das Essen war wieder sensationell. Min Ron Nee hatte mir versprochen dass ich soviel Krabbe essen könnte wir ich wolle und er hält das Versprechen. Krabbe gekocht, Krabbe gegrillt mit Chilli und Gewürzen, gebackener Fisch, Tauben, Crab meat balls, Beef, es türmten sich die Gerichte auf dem Plastiktisch.
Die Magnum Flasche Drappier dazu wieder ideal, genau wie die alten RyJ Coronas.
Ein luxuriöser Abend im schmutzigen Löffel, gerade richtig.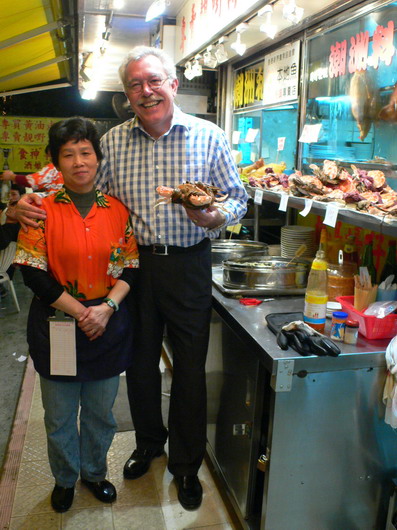 Krabbe vor dem kochen / Crab before boiling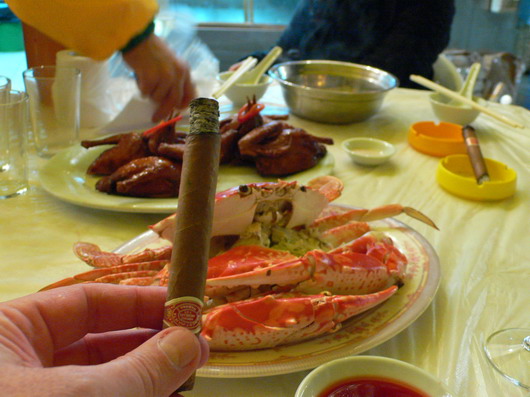 Krabbe nach dem kochen / Crab after boiling
Zum Abschluss wieder bei Min Ron Nee im Salon, beendeten wir diesen überwältigenden Tag mit mehr Champagner und als Abschluss ein 1983'er Graham's Vintage Port zu einer raren Diplomaticos Nr. 6 noch voller Aroma und Geschmack – wobei unser Gastgeber hier das "Montagsexemplar" wählte aber mit der nächsten aus der Kiste seinen Frieden fand.
Ich hatte Gelegenheit in MRN's Haus einige extrem rare "Ausnahmezigarren" zu fotografieren, darunter die hier zu sehende Partagas Fabulosos – das einzige Exmeplar auf der Welt. Überwältigend ist untertrieben …
Untertrieben das Gefühl auch, als Min Ron Nee mir das zweite der extrem raren Siglo XXI Humidore zeigte das ich in kurzer Zeit sehen durfte. In einer seiner Garagen steht es verpackt – allerdings natürlich leer, die Zigarren befinden sich woanders. Ich durfte es fotografieren. Die Anekdote seines  "geparkten" Garagen Siglo XXI Humidors war bisher nur in einer Webseite erschienen.
Ein fantastischer Abschluss eines traumhaften Tages – dieser sollte mich für den Rückflug am nächsten Nachmittag entschädigen, denn hier war, Technik sei schuld, wenig traumhaftes an den 12 Stunden Flugzeit.
Aber jetzt geht es etwas in die Wärme nach Süd Indien, dann werde wie jedes Jahr wieder in China – Beijing – das Chinesische Neujahr feiern um danach wieder in Dubai Wärme zu tanken bevor es nach Havanna zum Festival geht.
Living well ist the best revenge – Aufrichtigsten Dank an unseren Gastgeber Min Ron Nee !!
Copyright 01-2008 © Ninos Flying Cigar