30 Apr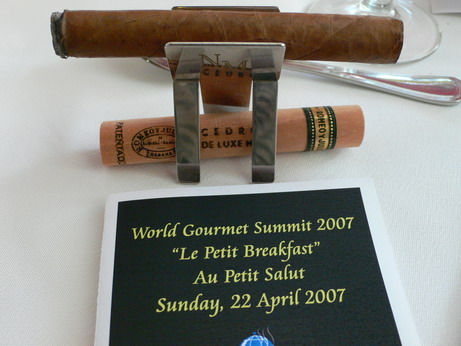 Singapore Sunday
"Au Petit Salut", Sunday 22 April 2007
Singapore is rightfully proud of it culinary traditions, both old and new, and so it celebrates good food on a daily basis.
Be it Hawker Stall food or high end cuisine.
Nevertheless, some Highlights do exist, one of them being the World Gourmet Summit.
I happened to be in Singapore for the occasion and was invited by my friend Jimmy, owner of La Casa Cubana at the Regent Hotel
to attend a Brunch at "Au Petit Salut", a Restaurant located in 44 Jalan Merah Sega, Holland Village.
It was a very informal but exquisite affair – in fact, we all agreed that it should be done every Sunday.
More pictures of the event can be seen here :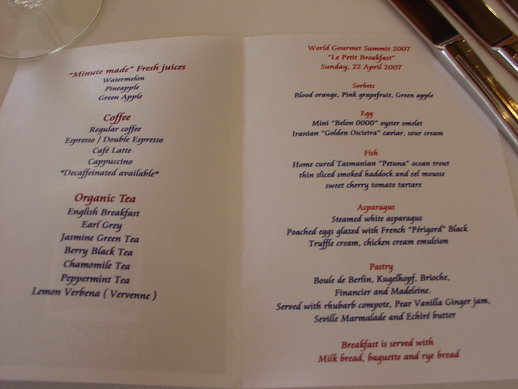 Menu
Menu
Jimmy's friends were all there ( except for Joost away in Jakarta ) and also some of the wives attended.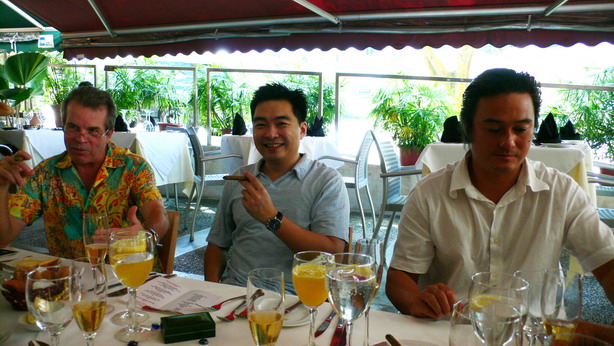 Au Petit Salut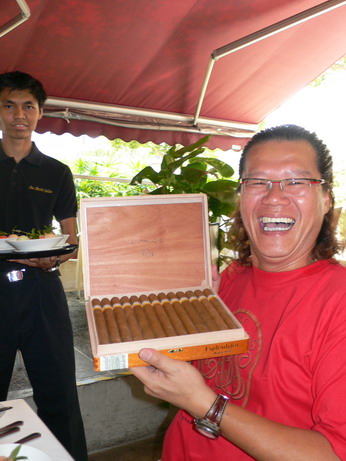 Jimmy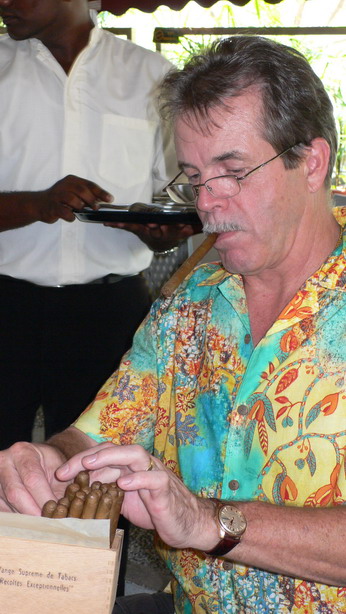 Dennis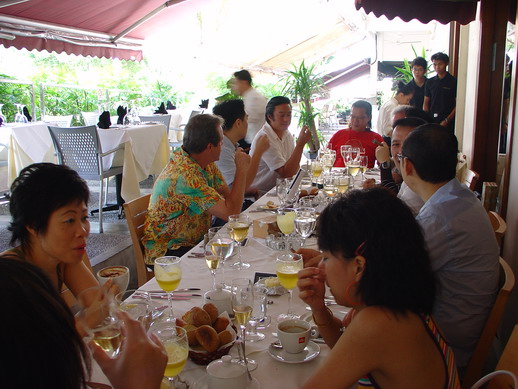 Happy Table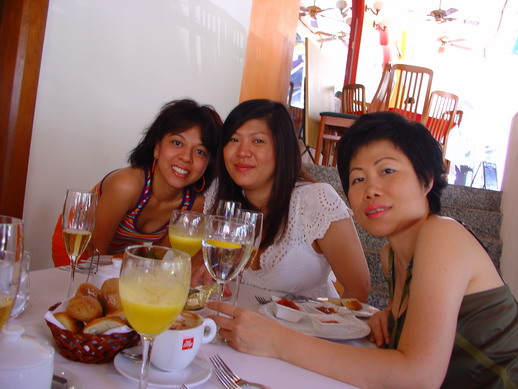 Happy Wives
My wife chose to enjoy the Pool as she was still fatigued – we had only arrived the previous evening, and later regretted not having attended – well, there's always another Sunday.
I was welcomed at "Au Petit Salut" by Jimmy, his wife Anne, his Assistant Ann, and by his loyal patrons and friends Clinton, Simon, Cy, Burnett, Dennis, and Kay.
We had the al fresco Smoking Area almost to ourselves, except for a local Photographer shooting a session on the Brunch delicacies before enjoying them with his girl friend – pleasures of the job.
We started with "minute made" fresh juices – the watermelon was deliciously thick and creamy, I stayed with it for the Brunch.
Some Champagne bottles had been provided by both Jimmy and Dennis, and so we started with a 1995 Henri Guiraud – perfect way to start a Sunday Brunch.
The sorbet – Blood orange, Pink grapefruit and Green Apple was served.
Cigars were already out and smoking by the time the second bottle of Champagne was launched.
A Box of RyJ Cedros de Luxe Nr 3 JUN 05 by me and a late 90's Box of Partagas  by Clinton.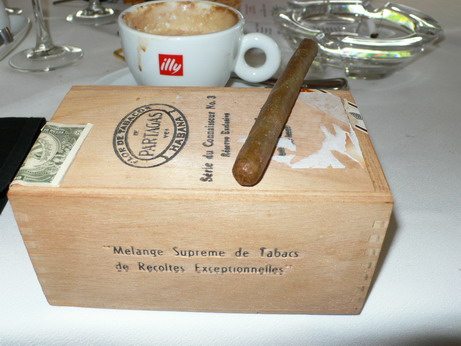 Cigars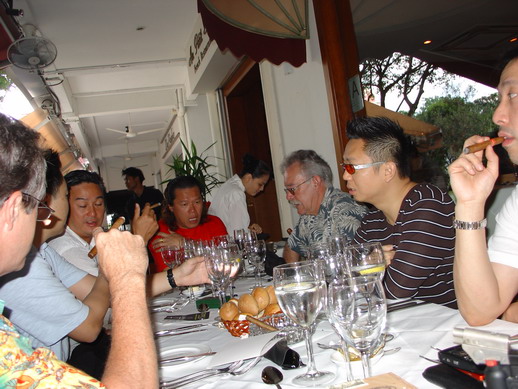 Gourmet Summit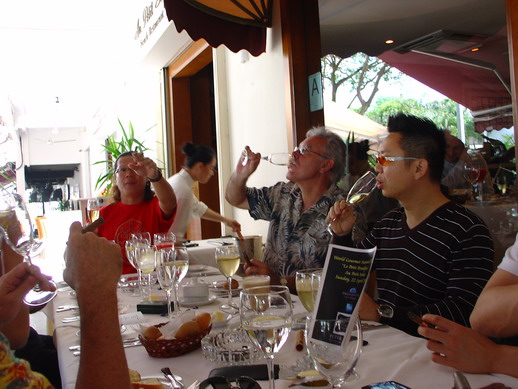 Cheers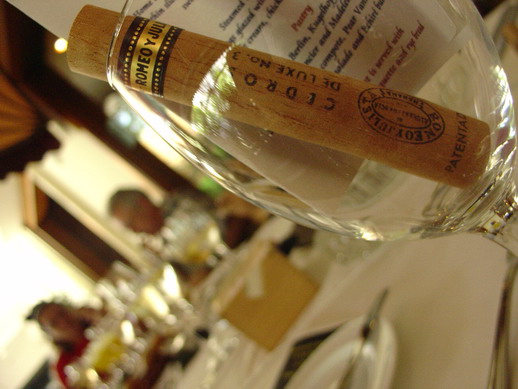 Au Petit Salut
The second bubbly was a 1998 Veuve Clicquot Pink Champagne.
We continued with a Mini "Belon 0000" oyster omelette splashed with golden Oscietra Iranian caviar.
Perfect.
On after a few puffs with the Fish, home cured Tasmanian "Petuna" ocean trout, thin sliced smoked haddock and an eel mousse, along with some sweet cherry tomato tartare. All delicious as was to be expected.
As in Germany, the asparagus season has also started in Singapore, so we continued with a poached egg glazed with French Perigord Black truffle creme along steamed white asparagus.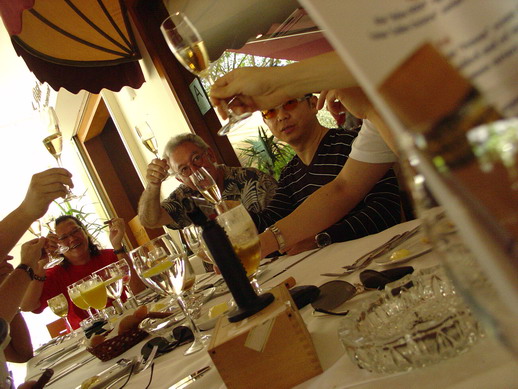 Cheers again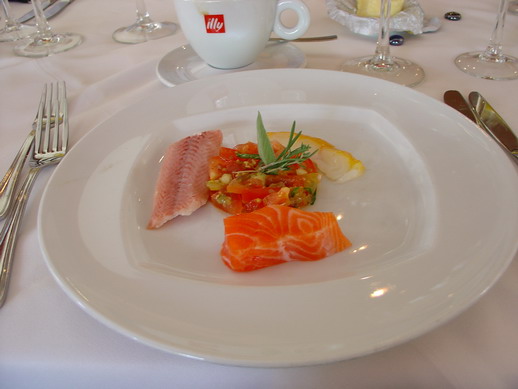 Great Food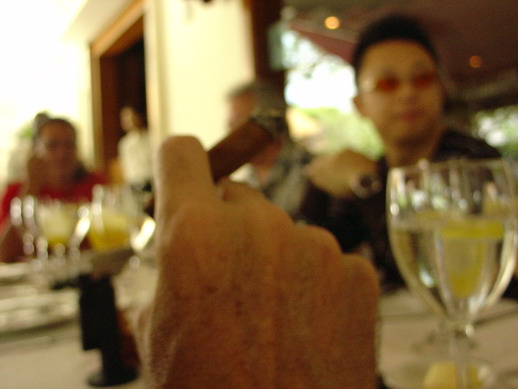 Enjoying
Having Fun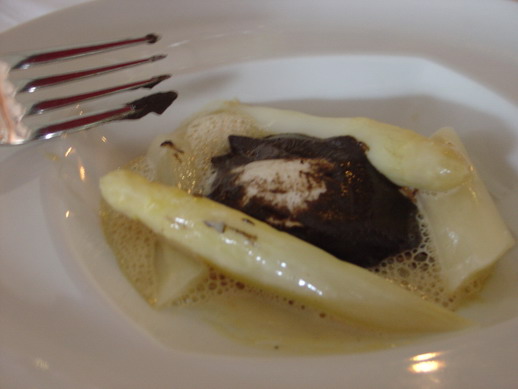 Asparagus in Singapore
This called for the opening a yet another Vintage Champagne, the 1999 L. Roederer Cristal.
So good – we had two bottles of it.
Coffee was served at all times along with seven different organic teas. The pastry, Boule de Berlin, Kugelhopf, Brioche, Financier & Madeleine was served with rhubarb compote, Pear vanilla ginger jam, Seville orange marmalade and French Echire butter.
Almost 3 hours on and the festivity was not over, as we were also presented a chocolate cake to celebrate the twin birthday's of Anne and Cy.
Happy Birthday was duly sung after the twin candles were extinguished.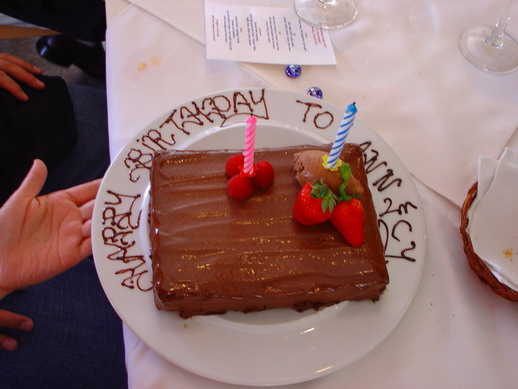 Happy Birthday  Cy !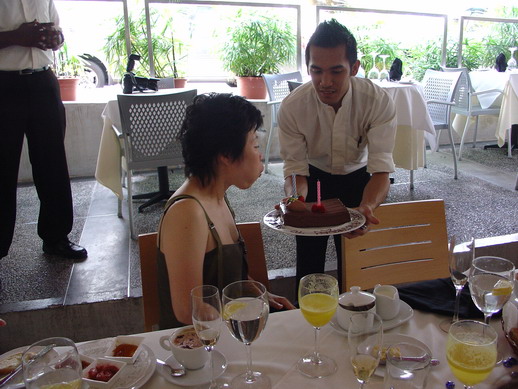 Happy Birthday Anne !
We ended the four hour affair and left the Restaurant agreeing that a Massage at an Orchard Road Spa ( very much resembling a Balinese villa ) would be the perfect way to let all the fantastic food relax before continuing the afternoon with cigars and malt at La Casa Cubana.
Simon Lamborghini
Which is what we did.
Wish all Sundays were like this.
Thanks Jimmy !
Nino
Copyright 04-2007 © Ninos Flying Cigar