24 Apr
und die Welt ist eine Auster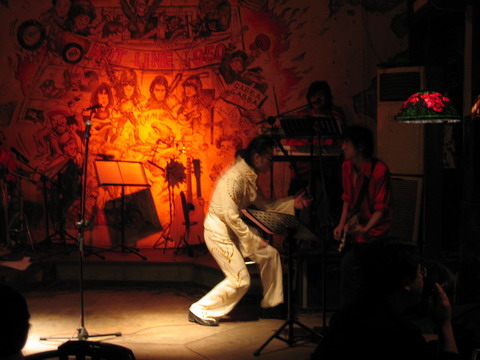 Beijing  Oktober
2005
Elvis is alive & well
………….. and the World is an Oyster
Beijing  October 2005
English Translation below the German Text.
Nach 2 Monaten gemütlichen Heimat-Urlaub ging es Ende Oktober wieder los.
Zuerst nach Atlanta, wo die Tristesse der Stadt sich durch die Einführung eines Rauchverbots noch etwas – falls möglich – erhöht hat.
Rauchen in der Sports Bar im Marriott ist nun Geschichte.
Allerdings hatten wir Glück. Es war noch sehr warm, und wir konnten draussen in der
Brewery sitzen und somit rauchen. Aber es macht keinen Spass mehr Raucher in den US of A  zu sein.
Da fliege ich doch lieber nach Asien.
Und ich sollte, wieder mal, gute Zigarren und gute Erlebnisse in Peking haben.
Nachmittags am Ankunftstag traf ich Ada in der Casa Habana, es war zwar 18 Uhr aber
für mich Frühstückszeit, denn ich hatte gerade eine Siesta hinter mir.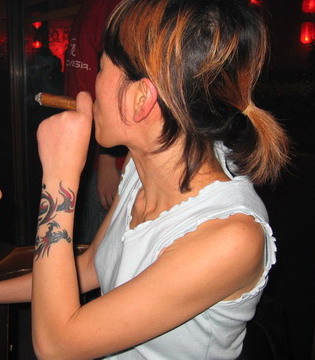 Ada's new Tattoo
Zu Cafe con Leche gab es dann ein paar gute Zigarren und ein langes Gespräch mit Ada und Fernando, dem Zigarren Sommelier der Casa.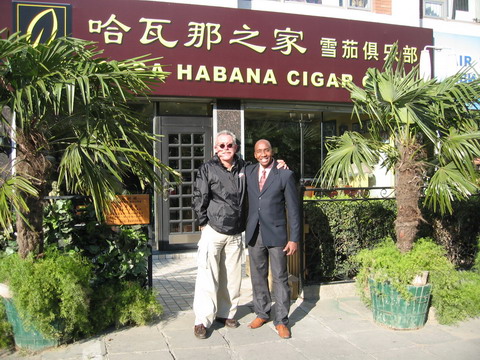 Nino & Fernando Beijing Oct. 2005
Wir freuten uns alle über das Wiedersehen.
Dass die Welt eine kleine Auster ist, erlebte ich – wieder mal – dadurch dass ein freundlicher Englischer Gentleman der ebenfalls in der Lounge rauchte mich – auf deutsch – fragte ob ich  einen Restaurant Tip für ihn hätte. Wir unterhielten uns über Restaurants und Shopping in Peking, er stellte sich als Auto Designer bei Ford in Köln vor. Ich fragte ihn ob er meinen Schwager kennen würde, Auto Designer bei GM in Rüsselsheim.
Nicht nur kannten sie sich, sie hatten sich gerade erst auf der IAA getroffen …
Welche Welt ! Eine kleine Auster mit schönen Perlen wie diese :
Ein Spanier der in China mit einem Kubaner und einer Chinesin raucht, wird zufällig von einem Engländer angesprochen, der seinen Schwager in Rheinhessen kennt …
Am nächsten Tag verbrachte ich wieder fast 3 Stunden in der Casa Habana mit Fernando.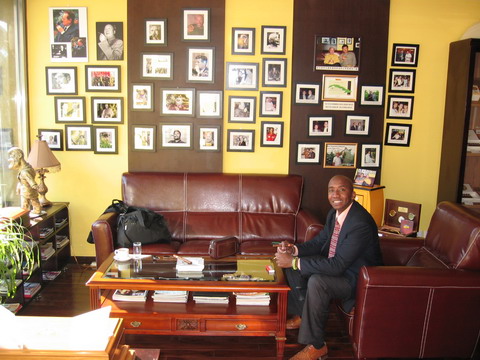 Fernando
Alle Einkäufe waren erledigt, ich hatte nebenan gut gegessen und freute mich auf einen
Cafe und eine gute Zigarre.
Es wurde eine Romeo y Julieta Churchill A/T die vorzüglich schmeckte, war sie doch
aus Fernandos persönlicher Kiste.
Diesmal machte ich einige Fotos von Che Guevaras Geschenk Humidor, ein Staatsgeschenk aus den 60'er Jahren das Ziqui – Inhaber – erworben hat.
Ich erlebte auch wie Fernando äusserst professionell einem US Ehepaar das  Zigarenrauchen beibrachte, denn sie hatten noch nie Zigarre geraucht, wollten es jedoch
probieren.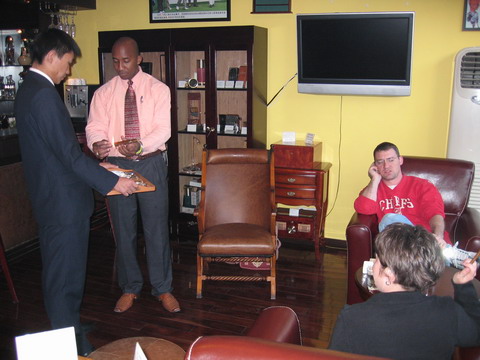 China,
Cuba & USA in Beijing
Zu Jack Daniels bekam sie eine Panatela und er einen Robaina Unico. Es wurde eine nette gemeinsame Unterhaltung, sie genossen die Zigarren und das " Rauchen mit dem Feind" …………. was relativiert wurde durch die gemeinsam erlittenen Schäden der letzten Hurrikane.
Die US Kunden erkundigten sich nach dem Wohlergehen von Fernandos Familie in  Havanna und bedankten sich für Kubas Hilfsangebot an die USA nach "Katrina".
Keine Spur von Feindschaft unter den Zigarrenrauchenden Menschen.
Abends traf ich wieder Ada auf eine Zigarre und es gab wie letztes Mal auch ein Abendessen mit Chris, dem Künstler aus Hong Kong und Amien, dem Friseur aus Peking.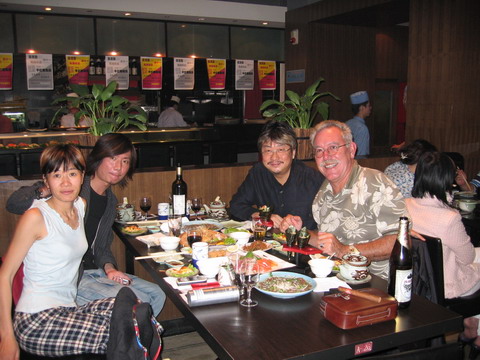 Ada, Amien, Chris & Nino
Ada lud uns alle in ein hervorragendes Japanisches Restaurant ein, exzellente
Küche von Sashimi bis zu Tempura.
Danach ging es noch auf eine Zigarre in " Hot Line 1950",  eine Kneipe mit Live Music & Shows.
Chris genoss meine kleine "Zigarren Gabel" die ich für besonders leckere Zigarren benutze
um sie auskosten zu können ohne mir die Fingernägel zu verbrennen.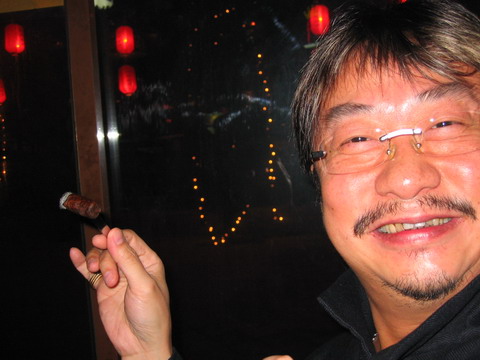 Chris & die "Zigarrengabel" / Chris & the "Cigar Fork"
Wir alle genossen die Musik und die Shows.
Und als ich zur Toilette wollte traf ich ……………. Elvis.
Er stand einfach da und wartete auf seinen Auftritt.
Ein Foto mit Elvis war Pflicht.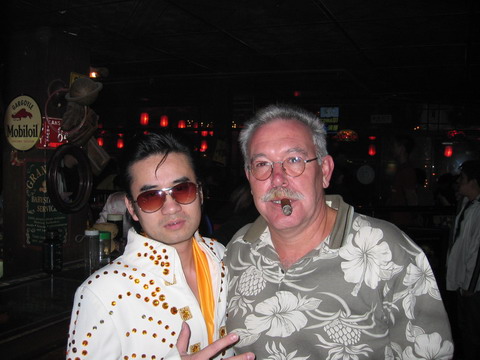 Elvis lives …………. Nino smokes
Es kam aber noch besser. Chris und ich wurden später von Elvis aufgefordert mit ihm
auf der Bühne  einige Hüft- und Tanzbewegungen zu machen sowie zu singen.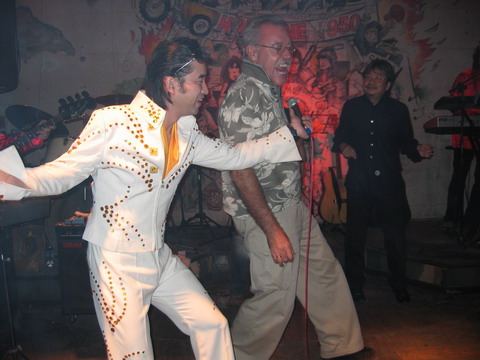 Viva Las Vegas
Wir gewannen zwar nicht den Ersten Preis der Elvis Imitation, aber immerhin den Zweiten
und Dritten – von Dreien.
Es hatte einfach Spass gemacht.
Noch ein Foto der Nord-Koreanischen IL-62 aus dem "Tunnel der Zeit", die Verbindung
zwischen Pyongyang und Peking, und wir flogen wieder nach Frankfurt.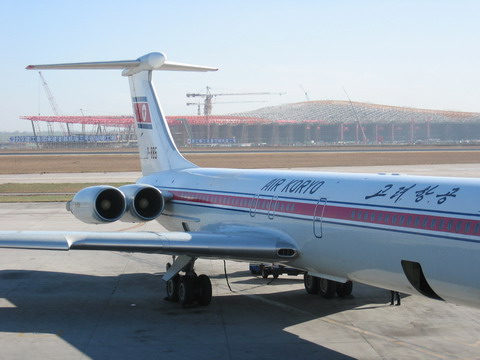 Alte Ilyushin 62 & Neues Terminal PEK Airport / Old & New in Beijing
Nach der Landung dort, konnte ich in der Entfernung am Terminal 2 die Zukunft sehen,
den Airbus A-380, grösstes Flugzeug der Welt, das an diesem Tag in FRA auf seinem allerersten Flughafen-Test-Flug gelandet war.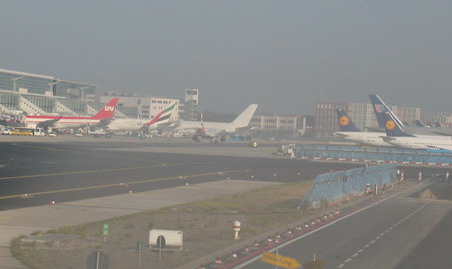 A-380 Ganz in Weiss / All White A-380
Jetzt geht der Alltag weiter mit einigen interessanten Flügen.  

English Translation : 
Elvis is alive & well ………….. and the World is an Oyster
After a comfortable 2 Months at Home, flying again started late October for me.
First to Atlanta, where the City's Downtown Dullness has been exarcebated – if at all possible – by the new Smoking Ban.
Smoking a post-flight Cigar at the Marriott's Sports Bar is now History.
But we were lucky as it was hot and we could sit outside the Brewery enjoying a few cold ones and a San Cristobal de la Habana La Fuerza.
It's no Fun anymore to be a Smoker in the US of A.
I rather fly to Asia.
And I was, again, going to enjoy good Cigars and Experiences on my flight to Beijing.
On the afternoon of my Arrival I met Ada at the Casa Habana, it was 6 pm but Breakfast time to me, as I had just finished a Siesta.
A couple of good Cigars to Café con Leche, and a long conversation with Ada and Fernando, the Casa's Cigar Sommelier.
We were happy to meet again.
That the World is a small Oyster was – again – confirmed when a friendly English
Gentleman who was also smoking in the Lounge came up and asked me – in German – for a Restaurant recommendation.
We conversed about Restaurants and Shopping in Beijing, he introduced himself, an Automobile Designer for Ford living in Cologne.
I inquired wether he, by any chance, knew my Brother in Law, an Automobile Designer for GM in Rüsselsheim.
Not only did they knew each other, they had just recently met at the Frankfurt Auto Show IAA ……
What a World ! A small Oyster with pretty Pearls like this :
A Spaniard smoking in China with a Cuban and a Chinese talks by coincidence to an Englishman who knows his Brother in Law in Germany …
Next day I again spent almost 3 hours at the Casa with Fernando. Shopping was done, I had just eaten well next Door and looked forward to a Café and a good Cigar.
It would turn out to be an excellent Romeo y Julieta Churchill A/T, perfect tasting – as it should, coming out of Fernandos personal Box.
This time I took some pictures of Che Guevara's Humidor, a State Gift from the Sixties which Ziqui – the Owner – had acquired.
I also experienced how Fernando perfectly "broke in" an American Couple that had not smoked a Cigar before but wanted to try it.
Along a Jack Daniels he served a Panatela to her and a Robaina Unico to him.

They had a nice conversation, enjoyed their cigars and "smoking with the Enemy"……… which was softened by the Hurricane Damage both countries lately suffered.
The US customers asked about Fernando's Family wellbeing in Havana and expressed
their thanks for Cubas offer of Help after "Katrina".
No Trace of hostility among Cigar smoking people.
I met Ada in the Evening for a Cigar and again we were joined for Dinner like last time by Chris, the Hong Kong Artist and Amien, the Beijing Hair Designer.
Ada invited us to a first class Japanese Restaurant, superb Cuisine from Sashimi
to Tempura.
Then we adjourned for a Cigar to " Hot Line 1950 ", a Pub with Live Music & Shows.
Chris clearly enjoyed my "Cigar Fork", a small Fork that I use for especially tasty Cigars so I can smoke them right up to the end without burning my nails.
We all enjoyed the Music and the Shows.
And on my way to the Bathroom I met ………………….. Elvis.
He was just standing there waiting for his Act.
A Photo with Elvis was a Must.
But it got even better.
Chris and I were requested on Stage by Elvis later on to practice some Hip Shaking and Dance moves as well as some singing.
We did not win the First Price of the Elvis Imitation Contest, but the Second and Third rank were ours.
It was just plain Fun.
A Photo of the North Korean IL-62 out of Pyongyang's "Time Warp Tunnel", and we were off back to Frankfurt.
After landing in Frankfurt I could see the Future of Aviation parked in the distance at Terminal 2, the Airbus A-380, largest Aircraft in the World, which had arrived earlier for its first-ever Airport Test flight.
Now the Routine continues with some interesting flights.
Nino

Copyright 10-2005 © Ninos Flying Cigar

Weitere Fotos zu diesem Bericht
: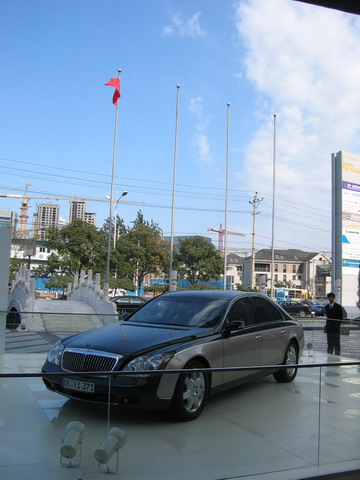 Maybach Limousine in Front of Kempinski Hotel Beijing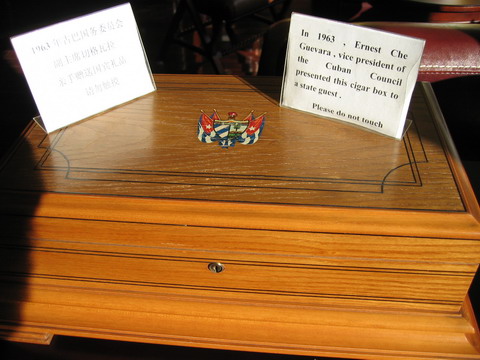 Che's
1963 Humidor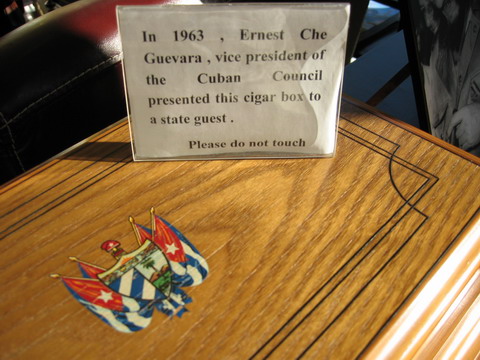 Casa
Habana Beijing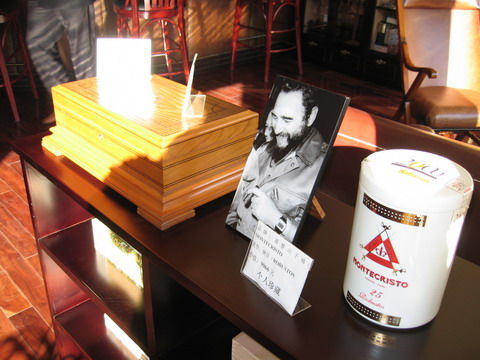 Casa
Habana Beijing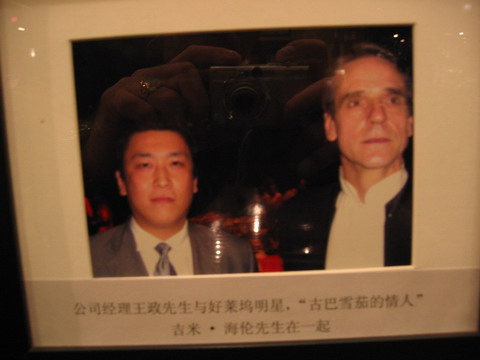 Ziqui
& Jeremy Irons, Festival del Habano 2005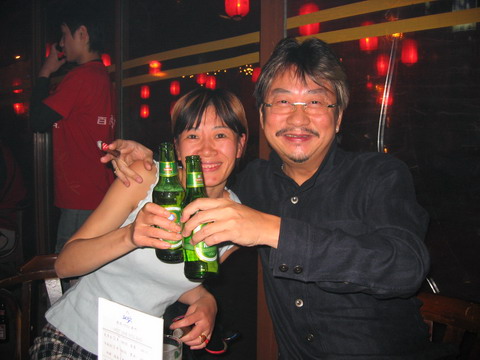 Ada,
Chris & Tsingtao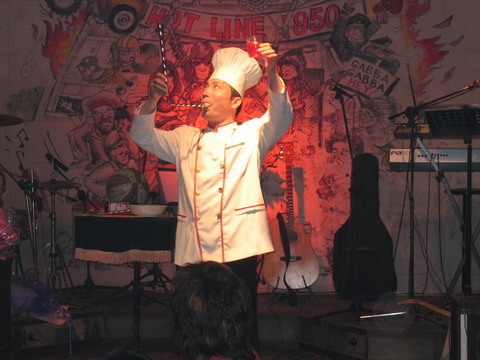 Good
Show Hot Line 1950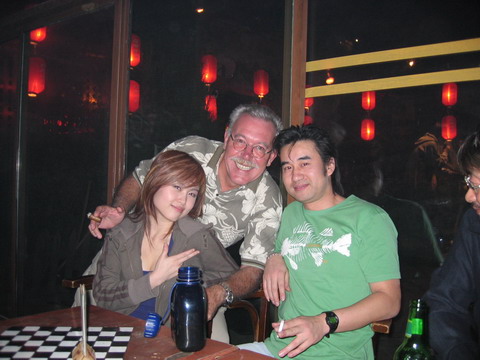 Elvis
in Zivil / PlainclothesElvis
Copyright
10-2005 © Ninos Flying Cigar